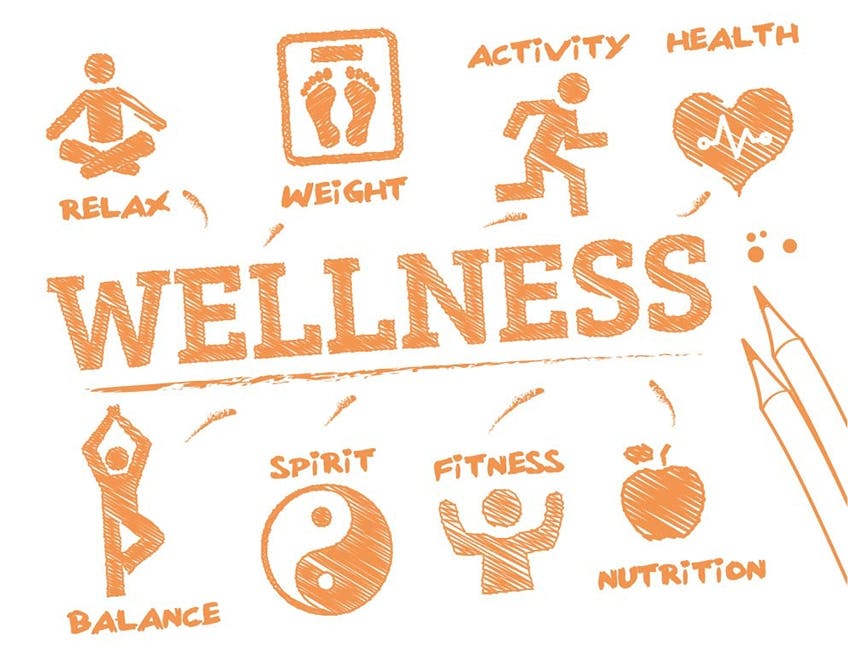 Easy Wellness Hacks For A Vibrant New You
33233

Views
Posted on:
February 5th 2020
Updated on:
December 15th 2021
Step 1: Re-evaluate your 'five-a-day'
It's fairly common knowledge these days that you should try and aim for five portions of fruit and vegetables a day, but do you? And is it really sufficient?
The general consensus amongst nutritionists is that this figure should be closer to ten portions a day. A growing body of evidence suggests that people who eat more fruit and vegetables as part of an overall healthy diet are more likely to have a reduced risk of a range of chronic conditions like diabetes and cardiovascular disease.
Sports enthusiasts will be glad to know that some of the nutrients in fruit and vegetables such as vitamin C also help to aid recovery after an energetic work out. In fact, research evidence has identified that not only does vitamin C contribute to normal energy-yielding metabolism it also contributes to the reduction of tiredness and fatigue. It may also help to counter the negative effects of extreme exercise by contributing to the protection of cells from oxidative stress.
Fruit and vegetables are generally low in calories so they are unlikely to sabotage your healthy New Year diet plans plus they're also packed with an enormous range of vitamins, minerals, antioxidants, flavonoids and fibre.
Simple solutions for increasing fruits, vegetables and vitamin C
Swap a couple of your usual breakfasts for a fruit smoothie made with colourful berries and added protein from a spoonful of yoghurt.
Half fill your plate with a mix of colourful vegetables.
Snack on dried fruit such as raisins, apricots and prunes. These are easy to carry and store well.
Frozen vegetables are quick and easy to use and can be just as nutritious as fresh vegetables.
You could pack loads of vegetables into soups and stews which make a tasty and filling comfort food style meal for these colder months.
Consider a vitamin C supplement, like Altrient C, if dietary restrictions mean you can't always meet the recommended guidelines for fruit and vegetables.
As well as its important contribution to cell protection, vitamin C also contributes to the regeneration of the reduced form of vitamin E, so you get two benefits for the price of one!
Step 2: Add some essential fatty acids to your diet
The omega 3 essential fats EPA and DHA found in foods like salmon, walnuts, mackerel and flaxseeds are as their name suggests 'essential' as your body can't produce them so they must be obtained from your diet. These 'healthy' fats play an important role in many body functions. Research has identified that DHA contributes to the maintenance of normal brain function and normal vision, and the combined actions of EPA and DHA have been found to contribute to the normal function of the heart. Great news for those that are determined to support their cardiovascular health not just in 2020, but well into old age.
Step 3: Try cooking with coconut oil
Unlike most other fats in the diet that consist of long-chain fatty acids, coconut oil is made up mostly of medium-chain fatty acids (MCFAs). This gives very different chemical properties to coconut oil compared to other fats and oils. Rather than storing MCFAs as fat, the body utilises them very quickly to produce energy, like carbohydrates. This is particularly useful for people on low carbohydrate diets that want to fend off tiredness and fatigue.
An added bonus is that coconut oil contains linoleic acid which contributes to the maintenance of normal blood cholesterol levels.
Step 4: Get the most from your exercise routine
If you're a fitness enthusiast and can't wait to shed a few pounds and get back in control of your health, then don't rule out a little helping hand. Supplementing with carnitine could be a valuable 'add-on' to a well thought out diet and exercise plan.
L-carnitine is one of many important co-factors in the biological pathways that transform fat into fuel for energy. It is concentrated in tissues like skeletal and cardiac muscles that utilise fatty acids as dietary fuel. Topping up on this nutrient makes sense especially if you are cutting out meat products from your diet, which a good source of carnitine.
Researchers have found that acetyl L-carnitine is the most well-absorbed form of carnitine, but even that could be hindered if taken in the form of standard supplements with low bioavailability. Nutrition experts agree that liposomal supplements such as Altrient are by far the best choice if you want to guarantee superior absorption.
What's more if you're facing the New Year as a committed vegan, your weight loss eating plan could be much less challenging with the support of Altrient Acetyl L-Carnitine.
Step 5: Time to chill and de-stress
Don't race into each month with a 'to do list' as long as your arm the more you give yourself to do the less achievable it seems and the easier it is to become stressed. Even though your body can cope pretty well with many tasks, you do need time to chill out and relax.
Raised stress levels could affect your blood pressure and may also deplete your body of essential nutrients that are vital for supporting the immune system and keeping your energy up. It's no surprise that many people fall ill after a hectic Christmas and New Year. No point eating extra fruit and vegetables if stress wipes out the benefits and you can't make it to the gym!
Planning ahead and delegating jobs to friends or family can take the pressure off and create some 'me' time so you can listen to music, read a book, potter in the garden or do anything else that helps you to relax.
When it comes to stress the B vitamins, specifically vitamins B1, B2, B6, B12 and niacin are essential for supporting the normal functioning of the nervous system and are vital for helping you cope with extra demands at this time of year. What's more these same B vitamins also contribute to normal energy-yielding metabolism, something that is often in short supply throughout the early months of the year after an indulgent festive period.
Jacqueline Newson BSc (Hons) Nutritional Therapy
References
Anitra C Carr et al. Human skeletal muscle ascorbate is highly responsive to changes in vitamin C intake and plasma concentrations. Am J Clin Nutr. 2013; 97, (4): 800-807.
Evangeliou A and Vlassopoulos D. Carnitine Metabolism and Deficit –When Supplementation is Necessary? Current Pharmaceutical Biotechnology. 2003: 211-219.
Harris WS. Fish oils and plasma lipid and lipoprotein metabolism in humans: a critical review. The Journal of Lipid Research. 1989; 30: 785-807.
Kostkiewicz M and Pauwels EK. Fatty acid facts, Part III: Cardiovascular disease, or, a fish diet is not fishy.Drug News Perspect., 2008; 21, (10) 552-6.
Müller DM, Seim H, Kiess W, Löster, H and Richter T. (2002) Effects of Oral l-Carnitine Supplementation on In Vivo Long-Chain Fatty Acid Oxidation in Healthy Adults. Metabolism, 2002; 51, (11): 1389-1391.
Odo S, Tanabe K and Yamauchi M. A Pilot Clinical Trial on L-Carnitine Supplementation in Combination with Motivation Training: Effects on Weight Management in Healthy Volunteers. Food and Nutrition, 2013; 4: 222-231.
Reda E, D'Iddio S, Nicolai R, Benatti P and Calvani M. The Carnitine System and Body Composition. Acta Diabetol, 2003; 40: 106-113.
Schwalfenberg G. Omega-3 fatty acids: Their beneficial role in cardiovascular health. Canadian Family Physician. 2006; 52(6):734-740.
Stough C, Simpson T, Lomas J et al. Reducing occupational stress with a B-vitamin focussed intervention: a randomized clinical trial: study protocol. Nutr J. 2014;13 (1):122.
Simopoulos AP. The omega-6/omega-3 fatty acid ratio: health implications. OCL 2010; 17(5) : 267–275.
Wutzke KD and Lorenz H. The Effect of l-Carnitine on Fat Oxidation, Protein Turnover, and Body Composition in Slightly Overweight Subjects. Metabolism, 2004; 53, (8): 1002-1006.