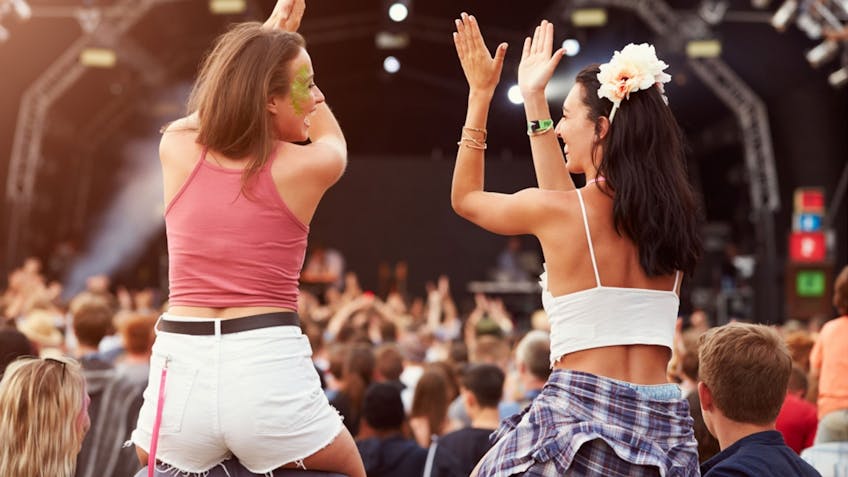 Festival Survival Guide
15417

Views
Posted on:
June 6th 2019
Updated on:
January 20th 2021
Doing the festival circuit can be a great way for school leavers to shake-off any residual exam tensions and celebrate life before heading to university, starting a career or adorning a backpack for a spectacular globe-trotting gap year…
Britain might not always have the best summer weather, but what it does have is an incredible range of outstanding music festivals! The UK's music festival scene kicks off in June when over 150,000 people descend upon a farm in Somerset to attend Glastonbury 2019. This Woodstock-esque festival has being going since the 70's and is one of Britain's oldest and most treasured music festivals. If you're looking to fill your summer calendar with epic festivals then look out for tickets to Reading, Leeds, Isle of Wight, Latitude, Download or Boomtown, to mention just a few. If music's not your thing or you matured past the age of a rock festival (!) then there are plenty of theatre, comedy, literary and food festivals to immerse yourself in too.
Whatever your age, a weekend of festival camping, glamping or AirB&Bing may take its toll on your health and wellbeing. Common festival health mishaps include dehydration, upset stomach, sunburn and insect bites and stings. How can you best avoid these festival hazards and prepare for a rock-star weekend away from home?
Suitcase essentials
Summer festivals may conjure up an image of being free-spirited, catching up with friends and being adventurous in the great outdoors. However, the reality is that some festivals can be incredibly stressful both physically, mentally and emotionally. If you're not a well-hardened festie fan then the stress and anxiety can start to build in the weeks leading up to the big event. Deciding what to pack is the first hurdle to conquer! With the British weather being rather unpredictable you may be in a quandary about what to wear – will you be basking in glorious sunshine or do you need to pack full wet weather attire? It's likely to be quite a hike from the car park to the camping area so traveling light is a good strategy but this may throw you into a panic if your hair, make-up and beauty routine involves a variety of gadgets and oodles of must-have products. Best to scale these down and save some suitcase room for some emergency healthy snacks, wellbeing products and nutrition supplements to help fuel body and support your health through this somewhat endurance-style weekend.
Full throttle
Staying up late, dancing the night away and being woken up at the crack of dawn by your campsite neighbours is likely to leave you feeling tired and depleted. There could also be a tremendous amount of walking around the festival site from band venue to food stall to art installation so comfy footwear is essential. Finding ways to help sustain your festival energy is a good idea if you haven't got time in your schedule for recovery when you return home. Leaving the bar area in search of some decent festival grub is a sensible way to re-fuel. Wholegrains, pulses and lentils provide naturally good sources of B-vitamins which help to support cellular energy production. Fortunately, curries (think dahl and brown rice) are familiar festival fodder. But topping up with a highly absorbable liposomal B-vitamin complex could be a handy festival nutritional supplement to help support your energy and festival vitality.
Look after your skin
Whatever the weather, your skin is likely to be exposed to the elements! Cold wind and rain may leave your skin feeling like it's in need of some extra TLC or a weekend of dancing in the blazing sunshine could put you at risk of sunburn. Help protect your skin by packing a travel size skin-nourishing moisturizer, sunscreen and after sun. Vitamins A, C and E along with lycopene help to support the skin from within. These nutrients can be found in orange, red and green vegetables, citrus fruits and red or purple berries. However, your chances of tracking down a few pieces of fresh fruit, let alone achieving 5-a-day, at a rock festival may be pretty slim. It's circumstances like these where nutritional supplements, such as a liposomal sachet of vitamin C, may help bridge the gap until you get home to a fridge full of fresh fruits and vegetables.
Toxic overload
If you're not a hardened drinker then be wary that three days of alcohol-fuelled festival frolics could result in an almighty hangover. Alcohol is a toxin which needs to be processed through the liver, but excessive drinking may leave the liver in need of some additional nutritional support. Glutathione may help to support liver function and acts as an antioxidant helping to neutralise the harmful effects of free radicals caused by oxidative stress and circulating toxins. Drinking a soft drink in between each alcoholic drink helps reduce your alcohol intake and aids hydration but supplementing with a liposomal form of glutathione across the festival weekend may also be a smart move.
Festival recovery
Once you get home, there are likely to be a few things on your mind – sleep, food and cleansing! Rehydrating with coconut water which contains a natural source of electrolytes could be a good item to have in your fridge ready for your return. Alcohol tends to have an acidifying effect on body cells and tissues and signs of being too acidic include headaches and skin eruptions. It may be worthwhile making a green smoothie with alkalising green vegetables, creamy avocado and a spoonful of barleygrass powder in a base of apple juice and/or coconut water to help support acid-alkaline balance. Tired and aching muscles may respond well to a warm bath containing magnesium-rich Epsom salts but before you jump in the tub you could do some skin brushing to help support lymphatic flow and cleansing. There's nothing quite like the comfort of your bed to ease yourself into restorative sleep, it make take a few days to feel back to your normal self but a healthy diet, plenty of rest and some TLC should help you get ready to face another festival again soon!