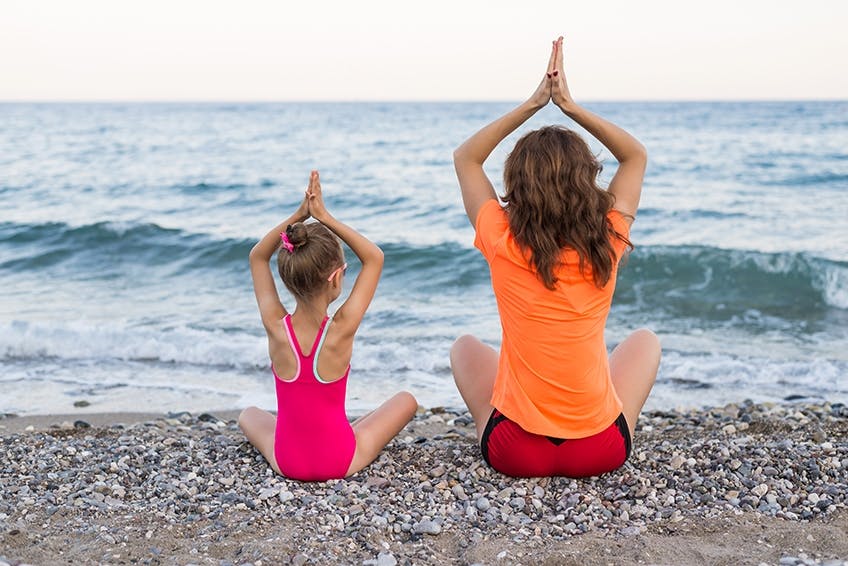 Get your brain back into gear
20233

Views
Posted on:
September 24th 2019
Updated on:
July 7th 2021
Discover how good nutrition can help spark-up the old grey matter and get the whole family prepped and ready for the classroom or boardroom, after a long hot summer of downtime…
It's that time of year again when you've got to wave your kids back off to school and throw yourself once more into the world of work and meetings. Easier said than done after a long relaxing holiday, with kids still in playtime mode and your own brain cells having long since left the room. A good plan of action is needed if you want the whole family to switch into thinking, learning and information retrieval mode! Best to start with the kids, because if they're happy and thriving at school, you'll be happy too and more able to meet your own work and life challenges.
Re-engaging your child's brain
As far as children are concerned, apart from getting them back into a good sleep routine, they need to get the right fuel for their brain cells. To help support concentration and maintain stable blood sugar levels, a nourishing breakfast that combines protein, healthy fats and complex carbohydrates is a great place to start.
For many years, breakfast consumption in school children has been positively associated with better general health and improved concentration and cognitive function. This idea is supported by public health experts from Cardiff University, who have identified that children who eat a healthy breakfast achieve higher academic results. Their research has confirmed that eating breakfast helps to increase school children's test grades(1).
Giving your children the right balance of nutrients before they set off for school isn't too difficult. Something as simple as beans on wholemeal toast, or yogurt with fruit helps provide nutrients needed for optimal mental performance. Although breakfast is particularly important, to be sure their brains get the best chance of being super-charged they need to re-fuel with highly nutritious foods throughout the day.
Top 5 nutrition tips for memory and concentration
Wholegrain bread and cereals – a good natural source of a wide range of B-vitamins, including B1, B2, B6, niacin and B12 are perfect for a growing child's brain, as they contribute to normal functioning of the nervous system. What's more these same vitamins are a great source of energy for the brain as they contribute to normal energy yielding metabolism.


Dairy products - provide plenty of vitamin B5, which may help support learning and concentration since this vitamin contributes to normal mental performance.


Protein - essential for neurotransmitter balance (hormone like substances that influence mood and behaviour) and growth and repair. Good sources include meat, fish, chicken, beans, lentils, eggs, nuts, seeds and tofu.


Colourful berries and vegetables – these foods provide a good source of antioxidants, vitamins and minerals to help maintain healthy brain cells.


Nut butters – these contain a wide range of nutrients including antioxidants, omega-3s and B-vitamins, which provide excellent nutritional support for a healthy nervous system and brain function. Try walnut butter, almond butter or cashew butter on an oat cake or celery stick for a tasty afternoon snack.
How about optimising adult brain health?
The adult brain is a complex and intricate structure made up of over 100 billion nerve cells. This amazing organ is the centre for intellect, behaviour and memory and it also co-ordinates movement as well as managing emotions. The daily challenges of juggling work, life, and social commitments may be quite a burden on mental health. The answer to coping with these demands is to support the brain with plenty of sleep, exercise and a healthy balanced diet. All of which, have the potential to alter brain health and mental function. Making healthy food choices is the most straightforward strategy for enhancing cognitive abilities and protecting the brain from damage(2).
For example, carbohydrates provide fuel for the brain, protein provides the amino acid building blocks to develop a healthy nervous system and vitamins and minerals are vital co-factors for helping the brain to transform amino acids into neurotransmitters and carbohydrates into glucose.
Any imbalance or deficiency may have a detrimental effect on brain functions such as memory and concentration. It's also essential to drink frequently throughout the day – a dehydrated brain is not a brain that functions well!
Ultimate brain food – key supportive nutrients
A varied and balanced diet provides the essential nutrients that help to protect and maintain normal metabolic activity in the brain. These recommendations are based on years of research, which have identified how dietary factors help influence specific molecular systems and mechanisms that help maintain mental focus, decision making and memory function(2).
Magnesium - this mighty mineral found in abundance in vegetables, particularly the green leafy kind, may help to enhance cognitive function because of its contribution to the normal functioning of the nervous system. Magnesium also contributes to normal energy yielding metabolism, an important factor in providing fuel for optimal brain function.
B-vitamins - specifically vitamin B1, B2, B6, B12 and niacin are known to contribute to normal functioning of the nervous system. Whilst vitamin B5 contributes to normal mental performance. Good dietary sources include wholegrains, animal protein, eggs, avocados, nuts and seeds.
Vitamin C – not often thought of in terms of brain health but very valuable as this vitamin contributes to normal functioning of the nervous system and normal psychological function. Vitamin C is plentiful in fruits and vegetables such as bell peppers, broccoli, strawberries, kiwi and mango.
Omega-3 fatty acids – these are of growing interest to scientists for their capacity to support cognitive processes in humans(3). Typical food sources are oily fish, flaxseeds and walnuts.
Not so clever foods – the ones to avoid
Reducing or eliminating certain foods may help to prevent brain fog and keep you feeling more mentally alert at work. Sugary foods or drinks, that deliver fast energy release tend to result in blood sugar crashes, which may lead to poor concentration and lethargy. Time to ditch the sweets, biscuits, chocolate bars, fizzy drinks and cakes.
Processed foods and ready meals often contain high levels of trans fats. Research shows that trans fats may have an adverse effect on the brain and nervous system. Scientists have found that these types of fats may have the capacity to distort brain cell membranes, which alters the ability of neurons to communicate, thus diminishing mental performance(4). Foods that may contain trans fats include margarine, crackers, biscuits, baked goods and fried fast foods.
What about nutrition supplements?
If you have a poor diet or malabsorption issues, then topping up with Altrient's liposomal supplements provides additional nutritional support. The unique delivery system of liposomes helps ensure a near-complete absorption of vital nutrients into the bloodstream. The physical qualities of the liposomes by-pass the digestive constraints normally encountered by traditional oral supplements, providing an exceptionally effective dose to the target cells.
Jacqueline Newson BSc (Hons)Nutritional Therapy
REFERENCES
Littlecott HJ. Association between breakfast consumption and educational outcomes in 9-11 year old children. Public Health Nutrition 2016, 19, 9: 1575-1582.

Gómez-Pinilla F. Brain foods: the effects of nutrients on brain function. Nat Rev Neurosci. 2008;9(7):568–578. doi:10.1038/nrn2421.

3. Smith AD, Smith SM, de Jager CA, et al. Homocysteine-lowering by B vitamins slows the rate of accelerated brain atrophy in mild cognitive impairment: a randomized controlled trial. PLoS One. 2010;5(9): e12244. Published 2010 Sep 8. doi: 10.1371/journal.pone.0012244.

Ginter E, Simko V. New data on harmful effects of trans-fatty acids. Bratisl Lek Listy. 2016;117(5):251-3.