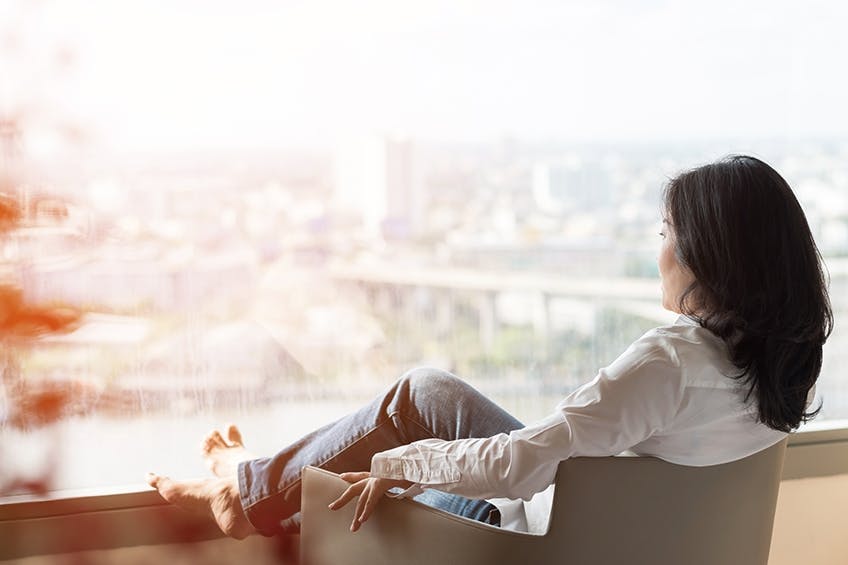 Nutrition Tips for a Smoother Menopause
17760

Views
Posted on:
October 11th 2019
Updated on:
July 7th 2021
It's World Menopause Day on the 18th of October so we though it very appropriate to write an article about the ways in which nutrition can help support women who have reached this impactful hormone transition.
Feeling fatigued
As women start their journey through the menopause levels of oestrogen and progesterone start to decline and there are in days when levels of these hormones can suddenly take a big dip. These hormone dips tend to have an impact on thyroid activity and metabolism which gets experienced as fatigue, low mood, listlessness and even depression. Prior to the menopause you can normally find a reason as to why you are feeling fatigued – maybe you weren't sleeping well, or because you may have over-stretched yourself at work or socially. But once you hit the menopausal you can experience severe fatigue without any logical explanation, it's often completely unexplained and menopausal fatigue tends not to be fixed by rest or sleep which makes it even more frustrating. Rest assured that once your hormone levels smooth over then these episodes of fatigue tends to pass.
Smoking, caffeine and carbs
There's plenty of research for many aspects of the menopause and women's health and one important fact that stands out is that women who tend to smoke, drink lots of coffee and eat more sugar tend to have more frequent and more intense hot flushes. It's thought that these stimulants tend to increase stress hormones such as adrenalin and cortisol and disrupt blood sugar balance and this coupled with days when hormone levels plummet may trigger the body's thermostat to miss read the body temperature and instigate a hot flush in attempt to cool the body down.
You'd be wise to stay clear of caffeine, sugary foods, starchy carbs and energy drinks as these tend to give a short energy burst followed by a pronounced and prolonged energy dip. Switching your diet to be rich in complex carbs and plenty of fibre from fresh fruits and vegetables helps to support blood sugar balance and a normal stress response. If the severity and frequency of your hot flushes inspires you to give up smoking then there are plenty of stop smoking techniques, support groups, hypnotherapy and even nicotine patches that may help you get over the initial hurdle of nicotine withdrawal.
Powerful phytoestrogens
The general dietary advice for women experiencing the perimenopause or the menopause is to include foods in your diet that are rich in phyto-oestrogens (fennel, cucumber, lentils, alfalfa, sunflower seeds, flax seeds, miso) helps to support hormone balance. It's thought that the phyto-oestrogen found in these foods have a similar chemical structure to the natural oestrogen that the body makes so they fit into oestrogen receptor sites found on cell membranes in areas of the body where oestrogen has an input – such as in the breast, bones, uterus, vagina etc. Once slotted into the receptor sites they may have an oestrogen balancing effect which is thought to help with some of the symptoms of the menopause.
However, if you have suffered from breast cancer or have been recently diagnosed with breast cancer or if you have a history of breast cancer in your family then you need to avoid or be extremely careful when considering adding these foods into your diet. If you have an oestrogen receptive breast cancer or type of cancer that is oestrogen receptive then it would be wise to avoid these foods altogether.
Stress and exercise
Stress also impacts on the menopause so it's important to find ways to lighten your load – get a support network in place and find ways to resolve troublesome relationships. Women who are fit and active tend to have a smoother ride through the menopause so it's time to discover a type of exercise class that you enjoy or find a buddy to go walking, running, cycling or swimming with, keep it fun and achievable and know your limits to avoid injury.
Important B-vitamins
During both the perimenopause and the menopause many women experience days of extreme tiredness and unexplained fatigue which is often not restored by rest and sleep. This is a very common and familiar sign of the changing hormone patterns associated with the periods winding down and your fertile phase of life coming to an end. There are lots of different B-vitamins, but scientists have discovered that it's specifically B1, B2 and B6 that are involved with regulating our metabolism to such an extent that vitamins B2 and B6 even help reduce tiredness and fatigue.
Paying attention to dietary sources of B-vitamins during the menopause could be of great benefit so and this group of vitamins is mainly found in foods such as asparagus, sunflower seeds, edamame beans, squash, peas, almonds, eggs, mushrooms and green leafy vegetables like spinach. Wholegrains, pulses and lentils are also carbohydrates that are bigger on B's so swapping white bread, rice and pasta for brown or wholegrain alternatives should be top of your shopping list. However, these vitamins tend not to be stored in the body, so a daily supply is super essential as your travel through the menopause. Topping up your diet with liposomal Altrient B-Complex is a sensible way to give your body that extra boost of B-vitamins to help support your energy as your hormones continue to change.
Bare bones
Prior to the menopause levels of oestrogen and progesterone instruct specialised bone cells to clear out old bone and replace it with new bone in a constant bone regeneration process that helps to maintain strong flexible bones. However, after the menopause hormone levels of oestrogen and progesterone plummet and this bone regeneration process become seriously compromised. Therefore, post-menopausal women have a much higher risk of bone fractures and osteoporosis, a disease characterised by weak, brittle bones.
Signing up to a regular weight bearing exercise class is a good way to help encourage bone strengthen and there are certain foods that are rich in the minerals calcium and magnesium that are important for bone health. These foods include nuts, seeds and green leafy vegetables so finding ways to incorporate these into your daily diet is a good step forward for your bone health. Vitamin D is a real bone hero during this phase of a woman's life as it contributes to normal calcium absorption, supports normal blood calcium levels and contributes to the maintenance of normal bones.
Skin cells normally make vitamin D when exposed to sunlight so if you are going through the menopause or if you are post-menopausal and live in a part of the world, like the UK, that has little sunlight at this time of year then it's a good idea to top up your vitamin D levels with a supplement.
No matter how severe your menopause becomes there are plenty of nutrition and lifestyle tips to help you feel more in control and if your symptoms become so severe that they interfere with your quality of life then you can always visit your GP and talk to them about he bio-identical (more natural) forms of hormones that are now available on the NHS.
Susie Debice Food Scientist and Nutritional Therapist