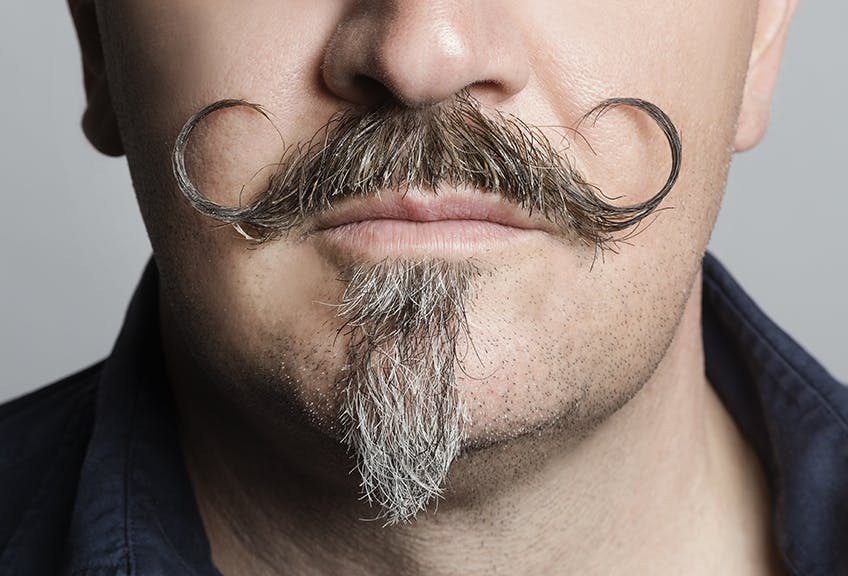 The Return of Mighty Movember
19445

Views
Posted on:
November 19th 2019
Updated on:
November 1st 2023
It's been a while since we wrote a blog on male grooming and male health so for those of you that have ditched your razors for the month of November here's some interesting male nutrition health facts and figures…
Hang on to your hair!
Since Movember is all about hair it's a good time to mention nutrients that support hair health and the foods that they can be found in. Firstly, the mineral selenium contributes to the maintenance of normal hair. This mineral is nowhere near as plentiful in our soil as it was 50 years ago which sadly means that many of the foods that are naturally rich in selenium tend now not to deliver the same levels of this mineral. Selenium rich foods include Brazil nuts, oats, mushrooms, brown rice, sunflower seeds and spinach. Next up is zinc, a mineral that ticks lots of boxes for male health including contributing to testosterone balance as well as hair health. This mineral can be found in meat, fish, nuts and seeds. Finally, a vitamin-like substance called biotin, found in eggs, diary, cauliflower, salmon, carrots, wheatgerm, peanuts, chicken and Swiss chard is another top nutrient for hair health.
Meaningful Movember
Competing with your friends or colleagues to grow a moustache in the month of November can be great fun but let's not forget that the focus behind your month of facial hair crafting is to raise awareness for some potentially life-threatening male health conditions. This Movember men all over the country will be growing, grooming and coiffuring their moustaches to highlight the need for men to start talking about (and get tested for) prostate and testicular cancer, mental health and suicide prevention.
Time to talk
It's a shocking statistic but 75% of suicides in the UK are from men and globally every minute a man dies from suicide. Many women are well-equipped to talk about their feelings and some men would say that women are extremely good at voicing their woes! However, the stigma that's still attached to the strong male ego could be why many men find it incredibly hard to voice things when the stresses of life have become too overwhelming to deal with. This Movember make a point of reaching out and talk to someone you trust about the things that are troubling you. Or if you think your brother, father, son or friend has become withdrawn or overly stressed then reach out to them too.
Regular contact
If you are going to ask someone how they feel, then make sure you genuinely have the time and the intention of listening to their response. Discuss with them some ways that they could seek further help or support and encourage them to get an action plan in place so they can start to lighten their load. Mental health issues tend not to clear up overnight, so once we are through Movember remember to check in with them regularly to see how they are doing. This friendly support can be of real value across the months when seasonal affective disorder takes hold.
Lifestyle shape-up
An unhealthy diet and lifestyle could be a contributing factor for mental health issues. Exercise encourages the formation of the happy brain hormone serotonin. Finding ways to move your lifestyle out of the sedentary bracket and into an active pattern is a healthy step for your peace of mind. Joining classes or signing up to a course with a personal trainer also means that you'll have the chance to interact with others which gives you an opportunity to forge friendships, feel connected and supported in your quest for fitness.
Mood foods
Eating unhealthy foods, skipping meals and riding the caffeine and sugar roller coaster could be contributory factors for low mood, depression and energy slumps. Time to ditch the junk and consider just how many of your 5-a-day you achieve each day. Here are our Top 10 Healthy Food Habits to help freshen up your diet…
Top 10 Healthy Food Habits
Swap processed foods for fresh alternatives
Swap white refined carbs (white bread, white rice, white pasta) for wholegrain alternatives
Swap sugary breakfast cereals for porridge or low sugar muesli
Swap salty snacks for raw nuts or seeds
Swap sweet treats for fresh fruit or a small handful of dried fruit
Swap red meat for oily fish (salmon, tuna, mackerel, trout) or white fish
Swap tea and coffee for herbal teas or water to stay hydrated
Make sure you eat three portions of green veggies a day
Increase foods rich in tryptophan – turkey, chicken, fish, oats, avocado, banana, cottage cheese, sunflower seeds and lentils
Eat a natural rainbow, different colour fruits and vegetables contain different nutrients to support health and wellbeing
Hero supplements
When it comes to cognitive health and a balanced mood there are a few nutritional supplements that help to support a healthy mindset. B-vitamins which are naturally found in foods such as wholegrains, lentils, pulses, beef, poultry and eggs are important for mind, mood, metabolism and energy. A daily dietary supply is important for all of us since this family of vitamins is not stored in the body. People with stressful, busy, active or a demanding lifestyle may need an extra supply of these vitamins and the Altrient B and Mineral Complex provides a handy and highly absorbable supplement. Different B-vitamins have different health benefits, but they all work together so taking a supplement that has the full range of B's, such as Altrient B and Mineral Complex is highly advisable.
Individual B vitamins and health benefits
Vitamins B1, B3, B6, B12 and folate contribute to normal psychological function
Vitamins B1, B2, B3, B5, B6 and B12 all contribute to normal energy-yielding metabolism and normal functioning of the nervous system
Vitamin B2, B3, B5, B6, B12 and folate contribute to the reduction of tiredness and fatigue
Vitamin B5 contributes to normal mental performance
Be brave, be bold, be beautiful
If beauty isn't your thing then just enjoy watching your fellow menfolk reveal their playful characters through their moustache art - the trimmed, the curled and the wild! But whatever your age or hair growth ability make sure that this Movember you are brave enough to talk to someone about your troubles and bold enough to support a friend or loved one through their struggles. Together you can make a difference.
About the author:
Susie Debice BSc Hons, Dip ION
Food Scientist and Nutritional therapist