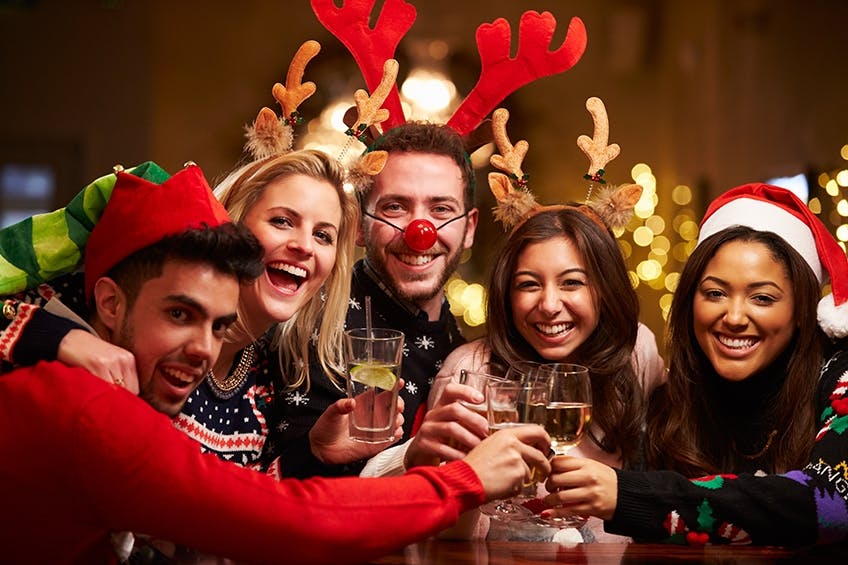 Hello Christmas, Goodbye Good Health!
20947

Views
Posted on:
December 2nd 2019
Updated on:
July 7th 2021
It's December, therefore it's party season, which means all and sundry will be strutting their stuff at the numerous festive celebrations leading up to the big day. There will of course be plentiful supplies of Christmas fizz, wine and beer as well as generous helpings of typical party fare - and therein lies the problem.
Christmas has a strange effect on otherwise healthy people. The urge to throw caution to the wind at this time of year is somehow irresistible. It's possibly the only month when you might give yourself permission to drink excessively and tuck into lots of 'beige' food – you know the kind - crisps, biscuits, sausage rolls and mince pies!
It may only be a brief period in relation to a whole year, but even just a few weeks of eating 'junk' food and drinking in this way could have quite an impact on your general health. Inevitably your digestion could start to become unsettled, the liver may struggle to keep up and your immune system might get compromised, bringing on those all too familiar tell-tale signs of overindulging:
Wind
Bloating
Lethargy
Diarrhoea
Indigestion
Constipation
Mental fog
Sore throat
Dealing with the December dilemma
All is not lost! You could employ a few clever tricks to really enjoy the Christmas season without all the accompanying symptoms. You might even survive to face the New Year feeling bright and breezy. Just follow our tried and tested Christmas Health Tips guide.
Christmas Health Tips
Simple guidelines which could make quite a difference to your whole Christmas experience. Here are our six top tips:
1. Fill up on water – drink a glass of water between alcoholic drinks which:
Helps to dilute the alcohol, slowing down absorption.
Fills you up, so there's less temptation to snack.
Helps minimise the risk of getting tipsy too fast, a slippery slope to uninhibited eating!
Helps counter the dehydrating effect of alcohol which tends to dry the skin and make you feel lethargic.
Re-hydrates the body minimising the chance of a hangover, so you can wake up feeling relatively normal and ready for the next party!
2. Practice mindful eating – go ahead and help yourself to a few of your favourite foods, but chew slowly, enjoy every bite and give your brain time to register that you are full. Eating from a smaller than normal plate is a good idea if you are wanting a new approach that could really help prevent you from overeating.
3. Support your liver – choose foods that contain nutrients, such as:
Indole-3-carbinol – which supports enzymes in the liver that helps with the whole detoxification process(1) and can be found in brassica vegetables such as Brussels sprouts, broccoli and cabbage. A good reason to help yourself to extra Brussels sprouts on Christmas day.
Glutathione – a substance made naturally by cells in the liver, however synthesis declines with age. It's involved in the production of the defence enzyme glutathione peroxidase, an extremely important cell protectant.(2) Fresh and frozen fruits and vegetables as well as meat contain moderate to high levels of glutathione.(3)
Defence nutrients – these play an important role in counteracting the free radicals created by the detoxification of toxins in the body. Eating a wide range of colourful fruit and vegetables helps provide you with a whole spectrum of key defence nutrients.
4. Select healthier snacks – nuts are plentiful around Christmas and they make the perfect nutritious snack between meals or accompaniment to a celebratory glass of wine. Instead of diving into the crisp bowl, nibble on nuts instead. These mini powerhouses are an excellent source of protein and fibre and have a great range of nutrients. Each type of nut contains its own unique combination, so don't restrict yourself to just one variety. A good mix provides all you need to help support energy and provide nutrients such as zinc which help support normal immune function throughout Christmas.
Remember, nuts are energy-dense so more than a small handful tends to really bump up calories. For maximum health benefits eat them raw, not roasted or salted.
Walnuts – omega-3 essential fatty acids, magnesium and antioxidants.
Macadamias – highest in monounsaturated fats, thiamine (vitamin B1) and manganese.
Almonds – calcium, vitamin E and B-vitamins.
Brazil nuts – selenium, magnesium (contributes to the reduction of tiredness and fatigue), calcium.
Cashews – iron, B vitamins, vitamin C (contributes to the protection of cells from oxidative stress).
Hazelnuts – potassium, folate (contributes to the normal function of the immune system) vitamin E.
Pecans – B vitamins, zinc and antioxidants.
Pine nuts – vitamins E, K, B1 and B3 (vitamin B1 & B3 contribute to normal energy-yielding metabolism).
Pistachios – magnesium, vitamin K, potassium. Highest in antioxidants and lower in calories than other nuts.
Chestnuts – vitamin C, folate, calcium. High in carbs, low in fat and calories.
5. Organise up days and down days – plan your social calendar so that in between the party obligations you have 'down' days when you can recuperate, eat less and make healthier choices. Make sure you factor in as many as possible of the vibrant foods mentioned above. On the partying 'up' days, get off to a good start by breakfasting on a revitalising vegetable or fruit rich smoothie.
6. Reduce bloating and weight gain – Christmas is a good time to try a 5:2 eating pattern, where eating is unrestricted for five days of the week, followed by two days of restricted calorie eating (usually between 500-600 calories per day). Evidence suggests this way of eating may help to maintain a normal weight and help offset the risk of some degenerative diseases.(4)
Festival nutrition supplements
If the social whirl of Christmas puts paid to all your good intentions, don't worry you could still gain a little extra health insurance by popping a few of Altrient's liposomal convenient single dose sachets into your bag. Bridging the gap with good quality well-absorbed supplements like Altrient C, Altrient B and Mineral Complex, Altrient Magnesium and Altrient Glutathione, may provide valuable nutritional support during the Christmas season.
Jacqueline Newson BSc (Hons) Nutritional Therapy
Resources
Wang et al. Indole-3-Carbinol (I3C0 and its Major Derivatives: Their Pharmacokinetics and Important Roles in Hepatic Protection. Curr Drug Metab. 2016; 17(4): 401-9
Kerksick C and Willoughby D. The antioxidant role of glutathione and N-acetyl-cysteine supplements and exercise-induced oxidative stress. J Int Soc Sports Nutr. 2005; 2(2): 38-44
Block G et al. Glutathione in foods listed in the National Cancer Institute's Health Habits and History Food Frequency Questionnaire. Nutr Cancer. 1992;17(1):57-75.
NIH: National Institute on Ageing. https://www.nia.nih.gov/health/calorie-restriction-and-fasting-diets-what-do-we-know [Accessed 5.11.19]