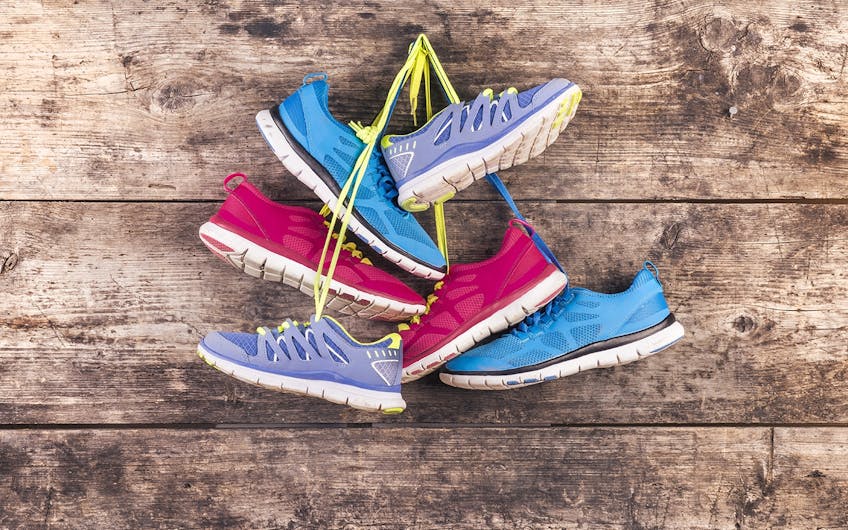 Hang up your trainers for a relaxed Christmas
19196

Views
Posted on:
December 17th 2019
Updated on:
December 6th 2021
It's not always a good strategy to continually push yourself physically. There are times in the year when taking a short break from an intense cardio training programme could do you a whole heap of good. Christmas is the perfect time to unplug from the stresses and strains of the things in our lives that often stretch us too far - physically, mentally and emotionally.
The cold weather and shorter hours of daylight give us a sense of wanting to slow down, keep warm, eat comforting food and hibernate. So, for now, switch your focus away from cardio training, hang up your trainers and let your focus fall towards rest, recovery and mindfulness.
Power-down
Taking a break and powering down for Christmas could have a phenomenal impact on your general wellbeing and your creativity. When we push ourselves hard and maintain a level of drive, motivation and focus this can often come at the cost of overriding creative thoughts, new ideas and may even suppress or help us ignore an inner calling towards a new life path which could lead to a high level of fulfilment and happiness.
Reflect and assess
Installing a two week Christmas pause provides you with the opportunity to listen to your intuition, to reflect back across the year and see if what you achieved is also generating a level of happiness and fulfilment in the amounts needed to motivate you to continue with the same life choices for the year ahead. This is exactly what holidays are all about. Unwinding, connecting with yourself, re-evaluating your trajectory and allow the space for creative thoughts to bubble to the surface.
Goal setting for 2020
This is your chance to decide how you want your 2020 to roll. You can make small or large changes to all sections of your lifestyle – work, family, friends, holidays, exercise and health. You can get a strategy in place that enables you to easily move away from the things you no longer enjoy and action ways to incorporate more of the things that make your heart sing.
Relax, it's Christmas!
If you're reading all of this and thinking that it sounds like a great idea BUT the reality is that your own family or work dynamics make Christmas an extremely stressful time of year, then you might benefit from a few nutrition tips to help you unwind. Offering the body additional nutrition support to help sooth tense muscles, relax the nervous system and restore energy levels is a good place to start. Normally, a healthy diet and lifestyle help to provide us with the nutrients needed to buffer stress and sleep deprivation, but let's face facts, Christmas is typically full indulgence - unhealthy food with more alcohol than you are used to. This is when nutritional supplements help to compensate for dietary short fallings and provide the body with that extra layer of support and its magnesium and B vitamins that spring to mind.
Christmas supplements
Magnesium and vitamin B1, B2, B3, B5, B6, B12, folate, help reduce tiredness and fatigue and magnesium and B1, B2, B3, B5, B6, B12, biotin, help contribute to normal energy yielding metabolism so these two make a dynamic team when it comes to getting your energy ready for an invigorating 2020. If 2019 left you feeling woeful then magnesium and vitamins B1, B3, B6, B12, folate and biotin also contribute to normal psychological functioning, good news if you're looking to tweak your mood and mental wellbeing ready for an uplifting 2020. For athletes looking to reward well-worked muscles with a little Christmas TLC, magnesium contributes to normal muscle function.
Not all types of nutrition supplements are the same when it comes to the rate at which they are absorbed, transported and utilised within the body. Liposomal supplements have been shown to have a superior absorption and reach the bloodstream very quickly compared to other standard supplements. Liposomal Altrient B and Mineral Complex contains all the B's and for an extra dose of magnesium there's the innovative liposomal Altrient Magnesium containing magnesium L-threonate.
Yoga to unwind
If you're finishing 2019 on a particularly busy note, then you might require additional relaxation tips to help you rest into reflection and creativity mode. Yoga and meditation are two amazing practices to help bring you back into a state of stillness.
Yoga means 'union' in Sanskrit and is a series of physical postures (asanas), breathing exercises (pranayama) and meditation that began in India over 3000 years ago and aims to achieve 'enlightenment'. Yoga is completely holistic, it provides an entire health workout, like no other form of exercise, bringing so many benefits on every level: spiritual, emotional, physical and psychological.
There are many variations of yoga some spiritual with chanting (Kundalini, Jivamukti), some more physical (Iyengar, Ashtanga, Vinyasa), some carried out in a hot room (Bikram) and some that are more slow-paced (Yin, Restorative). Pick an appropriate class – beginner, intermediate or advanced level and sign up to a course that helps you journey through the end of December and the beginning of January with ease and grace.
Meditation for the mind
Meditation is a relaxation technique designed to still the mind, balance breathing, deepen a spiritual connection and instil a sense of inner peace. Forms of meditation include guided meditation (uses mental images to aid relaxation), transcendental meditation (uses repeated mantas or sounds to help empty the mind), Buddhist meditation (focus on an object such as a candle or flower), mindfulness meditation (focuses on the present moment) and walking meditation (which synchronises breathing with footsteps).
Meditation switches electrical brainwaves from beta (goal-oriented tasks or stress) and gamma (learning or anxiety) to theta (deep relaxation) and alpha (wakeful rest or calmness) to improve conscious awareness. Meditation is also thought to strengthen connection between regions of the brain that process emotional responses.
Meditation is all about focusing your mind away from your thoughts and finding the best way to switch off the mental chatter and external influences so that you can drop into a state of wakeful relaxation. The more your practise the easier it gets. Once you've learned how to achieve 'passive alertness' you can then start to use meditation as a tool to help support your daily wellbeing.
Get ready for 2020
With the right nutrition support and space to unwind you can hopefully start to listen to your own intuition and formulate a list of what you would like to change for 2020 and start to get excited about the year ahead.
Susie Debice BSc Hons Dip ION

Food Scientist and Nutritionist.