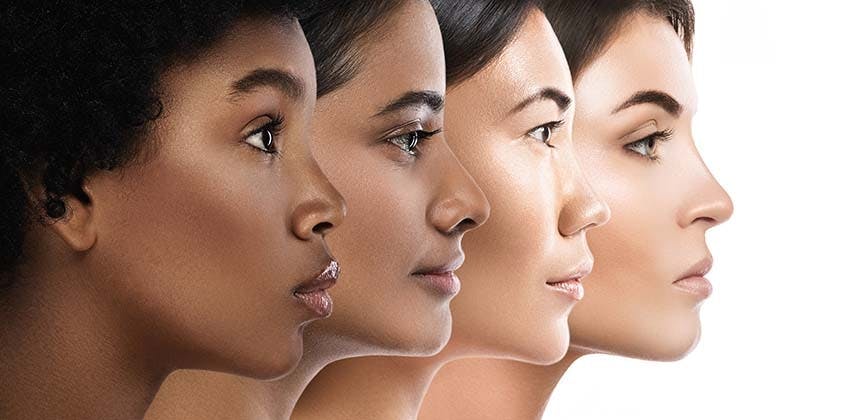 Does your skin phototype help you avoid sun damage?
25844

Views
Posted on:
August 13th 2020
Updated on:
July 12th 2022
Over-exposing your skin to summer sun could leave you with sun damage, skin pigmentation marks and signs of premature ageing. Nutritional Therapist Jackie Newson explains how getting to know your skin phototype gives you a better understanding of how to protect yourself from sun damage…
It's the height of summer and after a long period of lockdown you're probably itching to get out and enjoy the summer sun. But before you rush down to the beach armed with your favourite book in search of the perfect sunbathing spot, think about getting to know your skin a little better.
Understanding your skin phototype could make all the difference between burning and increasing your risk of skin cancer or achieving a healthy golden glow. Some countries, like Australia have really embraced the skin phototype system which the UK and other European countries are just starting to catch on to.
In Australia they're already pretty well informed about how much sun exposure the different types of skin can withstand. Given the year-round sunshine and extremely high temperatures in many parts of Australia, it's not surprising that the skin phototype system came into use.
What are skin phototypes?
The skin phototype classification was developed by Thomas B Fitzpatrick in 1975. Fitzpatrick first classified skin types from the results of his outdoor sunscreen study in Brisbane, Australia in 19721. He was able to observe how easily different skin types were able to tan and how sensitive each skin type was to sunburn, when exposed to the UV rays.
From his results he developed a system based on a person's skin colour and the skin's reaction to ultraviolet radiation (UVR) now known as the Fitzpatrick Skin Typing Test which has become recognised worldwide. Many dermatologists use it as a tool for phototherapy of skin diseases and for the development of appropriate skin products and cosmetic procedures. Health professionals also use the Fitzpatrick system to identify the risk of premature skin ageing due to sun exposure and how likely an individual is to get skin cancer.
Why use the Fitzpatrick skin type system?
There are two main factors that influence skin type, a person's genetic disposition and their reaction to UVR and tanning habits. Skin colour is determined genetically by the amount of melanin found in the skin cells2. Melanin is a pigment found naturally in the skin which functions to shield the skin from the sun by helping to absorb and scatter energy from UVR. Your skin's threshold of natural protection corresponds directly to the degree of pigmentation in your skin, which offers a significant (yet limited) defence against photo-ageing and risk of skin cancer.
The Fitzpatrick skin type system is an effective way to determine varying risk factors related to each individual's skin type. It is commonly used to predict the risk of photo-damage and skin cancer. It is also used to evaluate the response of different skin types to common cosmetic procedures and thus the potential hazards related to these such as skin irritation, hyperpigmentation and the risk of scarring3.
What are the six categories within the Fitzpatrick scale?
Initially Fitzpatrick divided skin types into three categories based on responses in white skin. Later brown skin was included and divided into a further three groups: type IV for light brown skin, type V for brown skin and type VI for dark brown or black skin4.
The current Fitzpatrick skin phototype classification is divided into six different skin types, skin colour and reaction to UV exposure. This ranges from very fair skin (phototype I) to very dark skin (phototype VI), depending on whether the individual burns or tans at the first average sun exposure.
3-step quiz to reveal your skin phototype
1. Physical traits (genetic)
SCORE

Characteristics

0

1

2

3

4

Your eye colour

Light blue, green or grey

Blue, green or grey

Dark blue, green, light brown (hazel)

Dark brown

Brownish black

Your natural undyed hair colour

(before going grey)

Red

Blonde

Chestnut or dark blonde

Dark brown

Black

The colour of unexposed skin

Pink

Very pale

Light brown or olive

Brown

Dark brown

The amount of freckles on unexposed areas

Many

Several

Few

Rare

None
2. Reaction to sun exposure (sensitivity)
SCORE

Exposure

0

1

2

3

4

Your skin reaction if you stay in the sun for too long

Severe burns, blistering, peeling

Moderate burns, blistering, peeling

Burns sometimes followed by peeling

Rare burns

No burns

Will you turn brown after sun exposure?

Never

Rarely

Sometimes

Often

Always

How brown do you get?

Hardly or not at all

Light tan

Medium tan

Dark tan

Very dark tan

How sensitive is your face to the sun?

Very sensitive

Sensitive

Mildly sensitive

Resistant

Very resistant
3. Tanning habits
SCORE

Exposure

0

1

2

3

4

How often do you sunbathe?

Never

Rarely

Sometimes

Often

Always

When was the last time you exposed your skin to the sun or used a tanning bed?

More than 3 months ago

In the last 2-3 months

In the last 1-2 months

In the last week

In the last day
Now add up the scores from each of the three tables to discover your skin type. All categories are detailed in the table below.
| | |
| --- | --- |
| Score | Fitzpatrick Skin Type |
| 0-6 | I Pale white skin |
| 7-13 | II White skin |
| 14-20 | III Light brown skin |
| 21-27 | IV Moderately brown skin |
| 28-34 | V Dark brown skin |
| 35+ | VI Deeply pigmented dark brown to black skin |
*Information above adapted from: www.arpansa.gov.au
What can you learn from the results?
Each skin type has different levels of risk in terms of their exposure to the sun. Forearmed is forewarned, this is what you should know:
Skin Type I (0-6 points): Good example - Scandinavian skin tone, very pale extremely sensitive skin.
Your skin always burns easily, never tans and is super sensitive in the sun. You are extremely susceptible to skin damage and at greater risk of developing skin cancer. You should be particularly vigilant of your skin's appearance and contact a doctor if you notice any changes.
Skin Type II (7-13 points): Most commonly white-skinned or northern Asians.
Your skin burns easily, tans minimally and is very sun sensitive. You are highly susceptible to skin damage as well as cancers like basal cell carcinoma and squamous cell carcinoma.
Skin Type III (14-20 points): Typically, light brown skin and some Asians.
Your skin sometimes burns and tends to tan gradually to light brown and you have moderate sun sensitivity. Tanning is a sign of UVR damage which may lead to skin cancer, so your skin is still vulnerable.
Skin Type IV (21-27 points): Good examples are Mediterranean, Middle Eastern and Southern Asian skin tone.
Your skin tends to tan easily and is less likely to burn and you have minimal sensitivity to the sun. But, you are still at risk of skin cancers.
Skin Type V (28-34 points): Mainly dark brown skin, typically Hispanic skin types, and some Africans.
Your skin tans easily and rarely burns, but you may still develop skin cancers.
Skin Type VI (35+ points): Darker skin Africans and indigenous Australians.
Your skin never burns, is deeply pigmented and is not sensitive to the sun. Although this skin type offers more protection against UVR than other skin types, skin cancer could still occur for people with very dark skin.
Top 10 ways to protect your skin from sun damage
Once you know your skin phototype you can make an informed decision on how to protect your skin. Even though everyone's skin is different and reacts differently to sun exposure, knowing how susceptible you are to burning in the sun enables you to take appropriate precautions to protect your skin. However, everyone - regardless of skin type - should implement a sun protection strategy. Aim to follow these top 10 tips:
Tailor your diet to include plenty of vitamins, minerals and antioxidants that protect the skin. Vitamins A, C and D, glutathione and zinc are particularly beneficial to skin health

Wear a sunscreen with an SPF of 30 or more if you are skin phototype I or II and an SPF of 15 or higher if you are skin type III to VI


Limit how much time you spend in the sun and particularly avoid the midday sun


Aim for shaded areas when you are out in the sun


Wear sunglasses with UV protection


Wear a hat that protects both your head and face


Wear protective clothing that offers sun protection if you are an outdoor worker or will be in direct sunlight for several hours


Use moisturisers and make-up with high SPF protection


Check the skin over your entire body every month, be aware of any unusual growths or moles


Get your skin checked every year by your doctor, especially if you have a personal or family history of skin cancer
When it comes to nutrition for summer skin, expert nutritional therapist Erica Rodrigues from www.naturallynourished.co.uk says
"SPF lotions provide topical skin protection however during times when you're getting more sun exposure, it's also important to be mindful of how to nourish and further protect the skin through the foods you consume. One of my top recommendations is to focus on vitamin C, naturally found in foods such as berries, red peppers, leafy green vegetables and fresh parsley. If you are not always managing to get these foods in your daily diet then supplementing with vitamin C becomes a sensible summer skin strategy"
How to gain the best skin protection from your food
Many foods are gloriously rich in nutrients that help keep you fit and healthy, but some are particularly good at supporting skin health. If you want to give your skin a fighting chance of staying youthful start adding these foods to your daily menu:
Berries, bell peppers, broccoli and Brussels sprouts – these plant foods contain high levels of vitamin C, which is a key nutrient when it comes to looking after the structure of your skin. Studies show that vitamin C contributes to normal collagen formation for the normal function of the skin and blood vessels. Collagen, a protein that is abundant in the skin, helps to maintain a firm, healthy appearance. Keeping blood vessels healthy supports a good supply of oxygen and nutrients to the skin. Vitamin C also contributes to the protection of cells from oxidative stress, and as such may offer additional protection against the damaging effects of UVR5.
Brussels sprouts and broccoli – a good source of glutathione, one of the most powerful defence nutrients found in almost every cell in the body. It is highly active in cells that are particularly vulnerable to UVR damage, such as the lens, cornea, retina and skin6.
Egg yolks, oily fish and liver – a reliable source of vitamin D which is a particularly important nutrient for skin phototype VI and for those who cover-up in the sun or always wear sunscreen when outdoors. The body creates vitamin D from direct sunlight on the skin, so if you're avoiding the sun you'll need to get a good supply of vitamin D from your diet or through supplementation. The National Health Service (NHS) in the UK recommends 10mcg daily of vitamin D7 and this nutrient is important for contributing to normal bones, muscles and skin health8.
Pumpkin seeds – a great source of zinc. The skin contains about 20% of the zinc found in the body. The exact details of the role of zinc within the skin is still being investigated, we do know that zinc contributes to the maintenance of normal skin and also contributes to the protection of cells from oxidative stress.
Cucumber –provides an excellent source of silica, a trace mineral that contributes to the strength of the connective tissue, which supports the structure, strength, flexibility and integrity of body tissues and the skin. Cucumbers and cucumber extract is a popular topical skin tonic thought to ease swelling under the eyes and soothe sunburn. These attributes may in part be due to the ascorbic acid and caffeic acid found in cucumber which have a role to play to maintaining cellular water balance.
Oily fish –salmon, mackerel, herrings, sardines, trout and fresh tuna help to nourish the skin with the omega 3 essential fatty acids that are so important for helping maintain skin cell membrane lubrication and flexibility. If you're not a fish lover then snacking on walnuts also provides a dietary supply of omega 3 or you could add ground flaxseeds (also rich in omega 3) to your porridge, muesli or morning smoothie.
Sweet potatoes –a healthy change from standard potatoes and full of beta carotene, the orange/yellow pigment found in plants which the body converts into vitamin A and is shown to contribute to the maintenance of normal skin. Beta carotene belongs to a class of compounds called carotenoids which are known for their cell defence properties. Vitamin A has the added benefit of offering additional sun protection when combined with other defence nutrients like vitamin Cand glutathione.
No need to worry if you can't include all of the foods listed above in your diet. High quality, well-absorbed supplements from the Altrient and Neutrient range offer a simple and convenient way to support your dietary intake of skin-nourishing nutrients for peace of mind throughout the months when your skin requires extra support from exposure to intense UVR.
Don't just rely on sunscreen – protect your skin from the inside too!
Jacqueline Newson BSc (Hons) Nutritional Therapy
References
Sachdeva S. Fitzpatrick skin typing: Applications in dermatology. Indian J Dermatol Venereol Leprol 2009;75:93-6.
Solano F. Melanins: Skin Pigments and Much More-Types, Structural Models, Biological Functions and Formation Rouotes. New Journal of Science 2014, ID 498276:1-28.
Sachdeva S. Fizpatrick skin typing: Applications in dermatology. Indian Journal of Dermatology, Venereology and Leprology 2009; 75,1: 93-96.
Ravnbak MH, MD. Objective determination of Fitzpatrick skin type. Danish Medical Bulletin 2010; 1-20.
Pullar JM, Carr AC, Vissers MCM. The Roles of Vitamin C in Skin Health. Nutrients. 2017;9(8):866.

Foundational Medicine. Monograph, Glutathione.

http://archive.foundationalmedicinereview.com/publications/6/6/601.pdf

.[Accessed 17.4.20.]

NHS. Vitamin D.

https://www.nhs.uk/conditions/vitamins-and-minerals/vitamin-d/

. [Accessed 28.7.20.]

Mostafa WZ, Hegazy RA. Vitamin D and the skin: Focus on a complex relationship: A review. J Adv Res. 2015;6(6):793-804

Australian Radiation Protection and Nuclear Safety Ageny (ARPANSA). Fitzpatrick skin phototype.

https://www.arpansa.gov.au/sites/default/files/legacy/pubs/RadiationProtection/FitzpatrickSkinType.pdf

. [accessed 24.7.20]