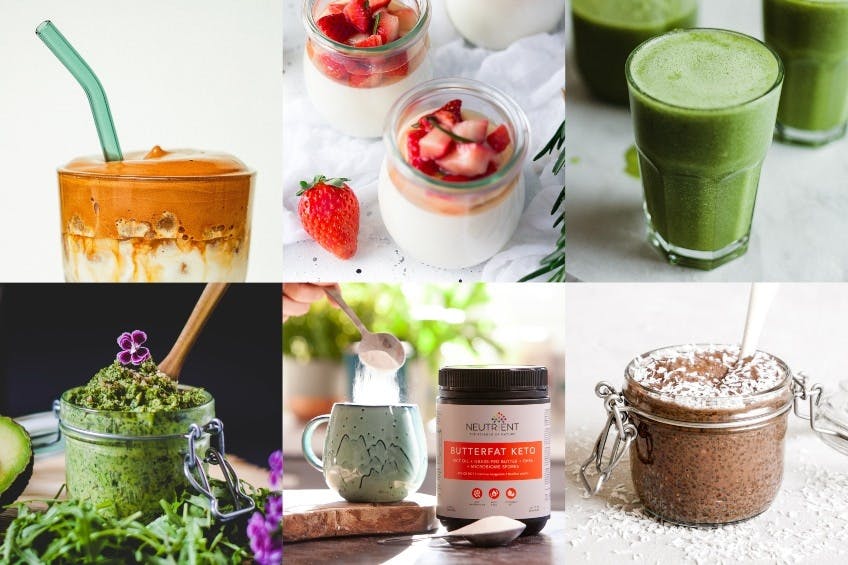 9 Delicious Butterfat Keto recipes to fuel your day! Bulletproof coffee, Smoothies and Snacks
19875

Views
Posted on:
February 26th 2021
Updated on:
December 20th 2021
Butterfat Keto is a unique blend of coconut sourced MCT containing 40% C8 medium-chain triglycerides with deliciously creamy organic ghee and butter from grass-fed and pasture-raised herds plus heat-stable Bacillus coagulans spores and Bacillus subtilis.
Butterfat Keto is popular with:
• Ketogenic diets
• Paleo diets
• Intermittent fasting strategies
• Low carb high-fat diets (LCHF)
• Sports and endurance athletes
• Busy and demanding lifestyles
What is MCT powder?
Medium-chain triglycerides (also known as MCT) are a group of saturated fats which get burned for energy rather than stored as fat. MCT fats are popular with keto and LCHF diets because they get quickly absorbed and readily converted into ketones providing body and brain cells with a source of fuel. Power up your morning!
If you're new to ketogenics then it's simply a wellness strategy that involves cutting back on dietary sugar and carbs and swapping in fats to cleverly switch the body into fat-burning mode. MCT provides your body with the types of fat that make the switch to fat-burning more efficient and effective, helping you power through your morning or get the best out of your workout.
Interested in how to do a ketogenic diet? Read our article, 'Are Ketogenic Diets The New Route To Effortless Weight Loss?'
How do you use Butterfat Keto?
We're not joking, your morning routine will never be the same again! Butterfat Keto is the ultimate coffee creamer and a perfect ingredient for making a bulletproof coffee. The MCT powder reinforced with organic ghee and butter means you can skip the milk and enjoy a creamy coffee with oodles of benefits.
If you don't drink coffee, no problem! Butterfat Keto is even more delicious in a morning smoothie and works well with tea. Our A&H nutritionists start their day with Butterfat Keto in their morning Earl Grey tea!
Healthy Snacks with MCT
Butterfat Keto isn't just for your morning drinks, you can enjoy a serving of Butterfat Keto at any time of day for keto fuel support. Butterfat Keto can be added to soups too.
BUTTERFAT KETO MCT RECIPIES
----------------------------------------------------------------------------------------
MORNING KETO COFFEE
You won't believe how quickly you'll fall in love with an early morning Butterfat Keto Coffee. It's essentially a bulletproof coffee, just without all the fuss, faff and blending - made super simple with our new special ingredient – Butterfat Keto.
Ingredients

2 tbsp Butterfat Keto
1 freshly brewed cafetiere or 1-2 shots of espresso
Sweeten with stevia drops (optional)

Method

Simply add 2 tbsp of Butterfat Keto to the bottom of your favourite morning coffee cup, add a small amount of hot water and stir until the Butterfat Keto has dissolved.

Top up your cup with freshly brewed coffee.
----------------------------------------------------------------------------------------
ICED KETO COFFEE SMOOTHIE
Sometimes it's just too hot for coffee! On days when the sun is shining bright or your feeling overheated from an intense gym workout swap your bulletproof coffee recipe for an iced keto coffee smoothie. Deliciously refreshing and ready to supercharge the rest of your day.
Ingredients

Single or double espresso, chilled
2 tbsp Butterfat Keto
1 tbsp almond butter
½ tsp vanilla extract
½ tsp cinnamon
3 cauliflower florets
200ml unsweetened almond milk
Stevia drops or erythritol to taste

Method

Mix nut butter and espresso shots together and set to one side.

Blend the almond milk, Butterfat Keto, vanilla extract and cauliflower florets until smooth and pour into a glass.

Pour the coffee and nut butter mixture over the back of a spoon to form a top layer. Adjust flavour with natural sweetener.
----------------------------------------------------------------------------------------
BREAKFAST BERRY YOGHURT POTS
Avocado and eggs can get a little bit repetitive as a keto breakfast option, so these little yoghurt pots are a welcomed break. Run out of strawberries, no problem just use raspberries, blueberries or blackberries.
Ingredients

100g Alpro plain coconut yoghurt or Coconut Collaborative natural coconut yoghurt
2 tbsp Butterfat Keto
40g fresh strawberries
Stevia, xylitol erythritol to taste
Sprig of fresh rosemary

Method

Stir the Butterfat Keto into the yoghurt, add natural sweetener if required and spoon into glass dish.

Finely chop the strawberries and add to the top of the yoghurt.

Sprinkle with fresh rosemary leaves for added flavour.
----------------------------------------------------------------------------------------
LEAN GREEN SMOOTHIE
You can't beat a fresh green smoothie for feeling healthy! Fresh spinach and broccoli is rich in magnesium which helps unwind stress and tension from the nervous system and muscles. Hemp protein provides plant-based amino acids important for muscle growth and tissue repair.
Ingredients

½ avocado (frozen or fresh)
2 tbsp Butterfat Keto
2 tsp chia seeds
1 tbsp ground almonds
1 handful fresh spinach leaves
2 broccoli florets
2 tsp hemp protein powder
2 inches of cucumber
Spring fresh mint
Squeeze of lime
200ml unsweetened almond milk
Stevia, xylitol or erythritol to taste

Method

Place all the ingredients in a Nutribullet or blender and whizz until smooth.

Adjust flavour with lime and natural sweetener.
----------------------------------------------------------------------------------------
SPICY TURMERIC SMOOTHIE
Freshly grated root ginger paired with fiery black pepper get you ready for action. This sunshine rocket fuel smoothie is balanced with nourishing coconut milks, creamy Butterfat Keto and cooling cardamom.
Ingredients

100ml tinned coconut milk
150 ml unsweetened coconut milk
2 tbsp Butterfat Keto
2 tsp ground turmeric
2 tsp finely grated root ginger
½ tsp ground black pepper
½ tsp ground cardamom
Stevia, xylitol or erythritol to taste

Method

Peel and finely grate the root ginger and add to your blender or Nutribullet with all the other ingredients.

Blend until smooth. Add extra sweetness if needed with stevia, xylitol or erythritol.

Turn up the heat with more black pepper or add a pinch of chili powder.
----------------------------------------------------------------------------------------
BEAUTIFUL BERRY SMOOTHIE
This smoothie is so delicious you could serve it as a dessert! If you have run out of raspberries, then feel free to swap in some frozen strawberries, which work just as well with the creamy Butterfat Keto.
Ingredients

40g frozen raspberries
200ml unsweetened almond milk
2 tbsp Butterfat Keto
1 tbsp nut butter
2 tbsp natural coconut yoghurt
1 tsp pea protein powder
1 tsp cacao nibs
Stevia, xylitol or erythritol to taste

Method

Place the nut butter, Butterfat Keto, milk, berries, yoghurt and pea protein powder into a Nutribullet or blender and whizz until smooth.

Adjust flavour with natural sweetener (xylitol, stevia or erythritol).

Sprinkle with cacao nibs and serve.
----------------------------------------------------------------------------------------
CHIA CHOC POT
These are little pots of chocolate heaven! Chia seeds are high in fibre and very filling and simply delicious soaked in almond milk or coconut milk and mix well with a wide range of spices. Adding cinnamon is a great way to provide extra sweetness. You can top with toasted nuts and seeds for extra flavour.
Ingredients

3 tbsp chia seeds
1 cup unsweetened almond milk
2 tbsp Butterfat Keto
1 tsp almond nut butter
1 tbsp raw cacao
1 tsp cocoa
1 tsp erythritol
½ tsp sweet cinnamon
½ tsp vanilla extract

Method

Tip the almond milk, Butterfat Keto, nut butter, raw cacao, erythritol, cinnamon into a jam jar, add chia seeds, place lid on and shake to mix in the chia seeds.

Place in fridge and chill for 60 mins, then shake again.

It's ready to eat in a couple of hours or will keep overnight in fridge for a couple of days.
----------------------------------------------------------------------------------------
KETO PESTO AVO DIP
If you are getting bored of dunking your veggie sticks into hummus or peanut butter then this basil and avocado dip will liven up your snack time. Keeps well in the freezer so double the recipe for a bigger freezer size batch.
Ingredients

1 large ripe avocado
80g fresh basil leaves
50g pine nuts
4 tbsp Butterfat Keto
50g parmesan, grated
100ml extra virgin olive oil
2 cloves garlic peeled, finely chopped
Juice of 1 lemon
Sea salt and black pepper

Method

Toast the pine nuts in a small pan on medium heat, until slightly golden, stirring all the time to prevent burning.

Tip onto a plate and set to one side. Peel the avocado, discard the stone, then add the avocado to a food processer with all the grated parmesan, basil leaves, garlic and olive oil.

Pulse until smooth then season to taste with the lemon juice, sea salt and black pepper.

Spoon into a glass jar and keep in the fridge for 4-5 days.
----------------------------------------------------------------------------------------
CACAO & CINNAMON ENERGY BALLS
It's often hard to resist unhealthy snacks when you're out and about and getting hungry. These little balls of energy are the perfect on-the-go snack solution. Just pop a couple in a handy container and you'll be able to stick to your keto diet wherever your travels take you. Perfect after a workout.
Ingredients

1 cup ground almonds
¼ cup almond nut butter
4 tbsp Butterfat Keto
1/3 cup protein powder
2 tbsp raw cacao
1 tbsp coconut oil
2 tsp cinnamon
1 tsp vanilla extract
¼ cup desiccated coconut (sugar-free)
2 tbsp erythritol or 10 drops stevia
1 pinch Sea salt

Method

Add all the ingredients, except the desiccated coconut, to a food processor. Pulse until well combined.

If too dry then add a little almond milk, if too oily then add extra ground almonds.

Roll into snack-sized balls and coat with the dedicated coconut.

Put in the fridge to set.
----------------------------------------------------------------------------------------
Keep an eye on social media where we'll be posting our favourite Butterfat Keto recipes from coffee with a twist, to wake-up smoothies and energy balls with attitude: