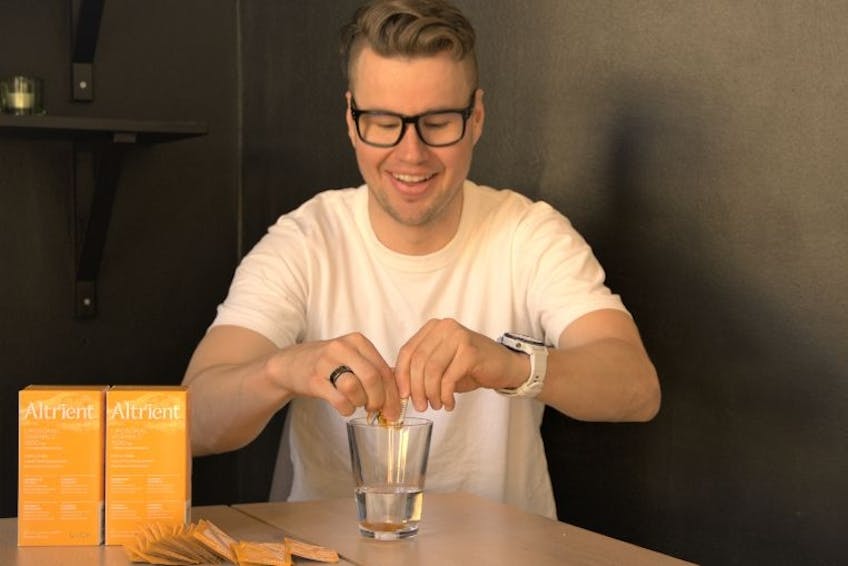 Getting to know Altrient Ambassador, Robson Lindberg
5045

Views
Posted on:
June 16th 2021
Updated on:
July 8th 2021
It's all about fitness at Abundance & Health at the moment, so we caught up with Altrient Ambassador, Robson Lindberg to get to know him a little better and to hear some of his fitness wisdom. You can follow Robson and his adventures on Instagram.
Have you always eaten healthy?
No, not at all. But after I started, I haven't stopped paying attention to my nutrition. And there is no way we can eat healthy 110% of the time. I have a 90/10 rule - 90% clean, 10% what I want. I have now had a friend, Alex Coh, a former pro cyclist, help me with a very strident nutritional plan since January. And I feel so much better.
How did you end up choosing Altrient?
James Mitchell helped get Altrient to sponsor our S7UPID project last year. And since then I've been hooked.
What have you learned about vitamin C that surprised you?
My mom is and has always been a huge vitamin C advocate. So I was mainly surprised that I had found a product she accepted from the get-go!
What's your Favourite supplement from the Abundance & Health range? (Altrient, Neutrient or Results RNA)
Definitely Altrient C
What are your favourite types of training, and which do you dislike most?
All training is my favourite. I trust my coaches 110%. Therefore, I know that everything they schedule is necessary. And if it is necessary. It brings me closer to my goal. That said, after having spent so much time on the bike last year, I have really liked the anaerobic run sessions this year.
What does your typical workout routine look like?
The sessions are mainly divided into easy or hard, below aerobic or just above the anaerobic threshold. Within triathlon, you have three disciplines and that is what gets me going - the variation. While I don't have a typical workout routine, I do have warm-up and post-workout stretch routines. Pre-workout is all about dynamic stretches and post-workout, longer and more static stretches. Pre-swim workouts, I juggle three or four balls. But I'm often late so, go figure!
You are an inspiration to many. Who inspires you?
Thank you. The list of people that inspire me is pretty long. First, all the people that live with TBI inspire me, we suffer from so much invisible stuff, just getting out of bed can be close to impossible on some days.
Then there are a ton of speakers that inspire me. These people often tend to speak from experience, and they've overcome some kind of huge obstacle. David Goggins, Mel Robbins, Kobe Bryant, CT Fletcher, and then Joe Rogan. Although many think he is controversial, I really respect what he has managed to build and the array of guests he has is so interesting. And thanks to YouTube, I can draw inspiration from them on demand, even if Kobe is not alive anymore.
What are your training hours on a normal week?
It really depends on what time of year, but it tends to be between 10 and 20 hours.
How much sleep do you get?
Not enough. Due to my TBI, sleeping has become a challenge and rigorous routines are necessary. I aim to sleep between 10 pm and 8 am. Often I only get sleep between 11 pm and 7 am. Sometimes I try to super-compensate. My success rate varies.
How do you boost recovery?
Altrient, protein supplements, clean food, Recovery Pump pants, compression clothes, massages, acupuncture, yoga, stretching, music, and conversation. But most important of all SLEEP. It's free. And it's so damn nice!
How do you remain focused and driven in such a competitive sport?
I have a train of thought I implement when I lose focus. It is a series of questions I ask myself:
What is my end goal?
Is it important to me?
Does the thing I am about to do develop me?
What is stopping me from doing it?
Remember when it took you 10 minutes to get out of bed because of those eight brain bleedings? When you couldn't crawl, write, drive a car, or even find your way to the corner grocery store?
After that, the entire thing is a no-brainer. These questions are just a fail-safe. I don't have to use them often. I shouldn't be able to do the things I do. Or that is what 20 neurologists told me.
Any beginner-friendly performance tips?
Ease into it. You should suck. Enjoy being a beginner. Ask questions, and if people don't want to answer you, find other people that do. If you're going to do something, do it to the best of your ability. After that, go home analyse, improve, learn. Being professional is a mindset. And it doesn't cost anything. And by the way, you won't feel good during every session. You won't feel good before or during every session. But damn you'll feel good after its done.
Do you have any other hobbies?
Photography, golf, sailing, content creation, F1, MotoGP, Oakley sunglasses, ball caps, nerding-out about sports in general, music and storytelling.
What keeps you motivated?
Motivation is rubbish. It is either important or not. Therefore, it either gets done or it doesn't. Love the process, not the results.
What's next for you?
IRONMAN Cervia. 18th of September. And before that, the birth of our first child in August.