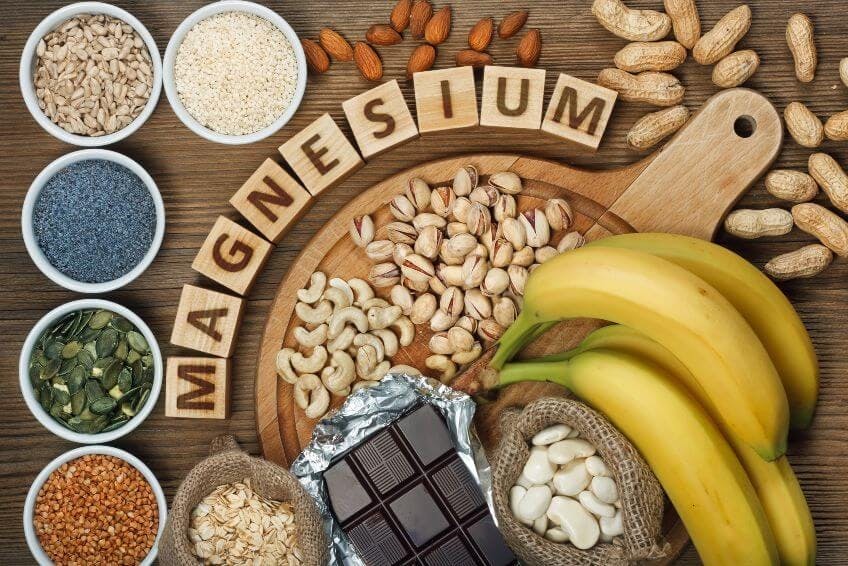 Discover why liposomal magnesium is THE best sports supplement…
15243

Views
Posted on:
June 29th 2021
Updated on:
December 10th 2021
It's happening - the world is getting back on its feet again! Dust off your trainers, fill up your water bottle and get your body primed for track, weights and cardio.
When it comes to stretching out muscles that have been left idle over the last year of lockdown and firing up your metabolism, there is one essential mineral that can put the action back into your training schedule – magnesium.
Magnesium deficiency
Magnesium deficiency is highly common in athletes and for anyone living a sporty or active lifestyle. Magnesium contributes to over 300 reactions in the body, so it's vitally important for your daily wellbeing. This mighty mineral also helps your body maintain its healthy alkaline balance by buffering the acidic impact generated by ongoing stress, cellular metabolism, poor diet, excessive alcohol, caffeine and sugar consumption and even lack of sleep.
If your diet and lifestyle is too acidic, then this easily depletes your magnesium reserves. Why is this relevant? Well, because without adequate magnesium, your muscles are unlikely to be at the top of their game, your metabolism is going to be benched, your energy won't get off the starting block and your performance will be far from impressive.
Natural sources of magnesium
Foods that naturally contain a good source of magnesium include nuts, seeds and green leafy vegetables. But if your daily diet doesn't feature enough of these foods and/or you're stepping up the intensity of your training, then your muscles could be missing out on the benefits of magnesium. This is where a daily sachet of liposomal magnesium helps to counterbalance dietary shortfalls and provide a handy way to rapidly replenish magnesium which is lost from the body during sweaty workouts.
Get off the couch!
Lockdown lethargy might have left you firmly rooted to the couch and struggling to muster up the enthusiasm for a new fitness regime. This is where clever apps like Couch to 5K are helpful, affordable and sensible. A fitness plan that starts low and builds at a steady and realistic rate is easy to stick to and helps prevent injuries. To give your fitness mojo a little boost, supplementing with magnesium might just help you get off the couch, as this mineral contributes to the reduction of tiredness and fatigue.
Keep your metabolism on track
Once you're hitting your stride and making headway with your fitness, it's your metabolism that needs to keep up the pace. Smartly marketed glucose and caffeine rich sports drinks offer a quick fix, but these false fuels typically create a fast buzz followed by an almighty slump.
Do your metabolism a favour by focusing on slow-release carbs and good quality proteins for more sustainable blood sugar balance and reinforce this by supplementing with magnesium which contributes to normal energy-yielding metabolism.
Get your head in the game
When it comes to sabotaging your fitness, there's nothing more de-motivating than being in a bad mood, feeling low or being anxious that the competition has got the upper hand. Sometimes stress, frustration and anger can easily be channelled into drive and purpose to fuel your performance. But having the wrong frame of mind could easily put your game on the back foot.
Supplementing with magnesium could help you get your head back in the game and outsmart the competition, since this mineral contributes to normal psychological function and helps calm and soothe the nervous system. The good news is that helping to settle a busy mind, magnesium is also helpful if pre-competition jitters prevent you from getting a good restorative night's sleep before your sporting event.
Summer body conditioning
After such an unusual year, when you've probably been more inactive than ever before, it wouldn't be surprising if you're out of shape body is quite ready for striding down the beach in swimwear. Burning off some kilos with a few HIT classes, buffing up muscles with repetitions of weights and tucking in your tummy with Pilates or yoga are all great options for getting your body ready for summer.
Getting trim and toned is all about building protein, and guess which mineral lends a helping hand? That's right its magnesium, which has a role to play in the process of cell division and contributes to normal protein synthesis helping you turn all your fitness efforts into high scores for body conditioning results!
Key electrolytes to keep hydrated
There's no doubt about it, exercise is thirsty work! And the more your sweat, the more important it is to replenish key electrolytes, think sodium, potassium, calcium, magnesium. Electrolytes are rapidly lost through the skin during sweating and play a key role in muscle contractions, nerve impulses and also oversee hydration and pH balance.
Magnesium contributes to electrolyte balance and proper hydration can't happen without the aid of electrolytes which work by drawing water into cells through a process known as osmosis, preventing dehydration. When it comes to achieving your sports goals, avoiding dehydration is key. Even just a 2% decrease in body weight from loss of water could impair your performance by up to 20%!
No pain, no gain
If there's one thing that puts your training schedule at risk of being sabotaged, it's those dreaded DOMS (Delayed Onset Muscle Soreness). It's easy to assume that the muscle pain and stiffness felt anything from a few hours to several days after training is caused by lactic acid build up. However, this kind of muscle soreness created by high intensity exercise is actually caused by micro tears within the muscle fibres (myofibrils) triggering inflammation to protect the muscles as they recover.
DOMS may be uncomfortable, but they are an essential part of the process that enables your muscles to grow and develop so you can improve your stamina, strength and performance. So how does magnesium fit into the DOMS recovery plan? Magnesium contributes to normal muscle function and plays a key role in the regeneration process involved in healing the muscle fibre micro tears, supporting the recovery from soreness, aching and cramping muscles.
Magnesium oil vs liposomal magnesium sachet
Some athletes opt for transdermal magnesium oils or creams. However, it takes time for the magnesium to travel through the skin and adipose tissue before hitching a ride in the bloodstream to the muscle destination. The other complication of a magnesium oil is that it's hard to decipher how much magnesium is actually being absorbed. Some high strength magnesium oils also have a tendency to irritate the skin and trigger skin rashes. Not what you need when you're tired and achy after an intense workout or competition.
Liposomal magnesium wins the gold medal for its rapid absorption rate compared to standard magnesium supplements. The added bonus is that you can easily achieve a therapeutic dose that hits the bloodstream in record time, gaining a head start for getting to muscle cells deep within the body.
Feast on magnesium
Sports nutrition can help you get the best out of your fitness plan and truly nourish you towards better health and improved performance. To put the magnesium factor into your diet, focus on the foods listed below that are naturally rich in magnesium. If these foods don't feature as part of your regular daily diet, then supplementing with liposomal magnesium is a smart move for topping up your magnesium levels and helping support your muscle function and fitness.
FOODS NATURALLY RICH IN MAGNESIUM

MEAT

FRUIT

LEGUMES

Beef

Avocado

Black beans

Chicken

Banana

Chickpeas

Blackberries

Edamame beans

FISH

Figs

Kidney beans

Halibut

Kiwi

Lentils

Mackerel

Prunes

Lima beans

Salmon

Raisins

Navy beans

Raspberries

Peas

DAIRY

Cottage cheese

VEGETABLES

GRAINS

Greek yoghurt

Artichokes

Brown bread

Goat's cheese

Broccoli

Brown rice

Milk

Chard

Buckwheat

Parmesan

Kale

Oat bran

Ricotta

Potato

Oats

Yoghurt

Spinach

Quinoa

Squash

Wheatgerm

ALTERNATIVES

Sweet potatoes

Almond milk

Cashew milk

NUTS

SEEDS

Coconut milk & yoghurt

Almonds & almond butter

Chia seeds

Soya milk & yoghurt

Brazil nuts

Flax seeds

Tofu

Coconut water

Pumpkin Seeds

Cashews & cashew butter

Dark chocolate

Peanuts & peanut butter
Ways to take liposomal magnesium
Taking liposomal magnesium couldn't be easier, the sachets are easy to pop into a pocket, tuck into a gym bag or keep by your desk so you always have one to hand.
Take it as follows: