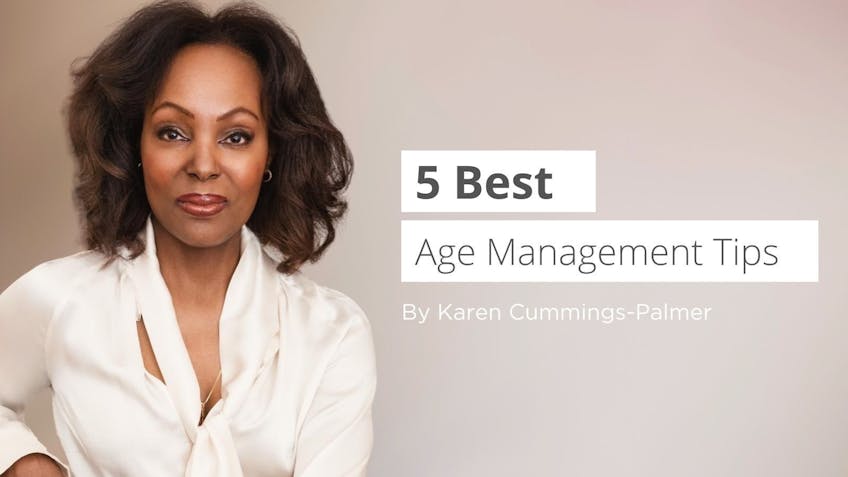 5 Best Age Management Tips by Karen Cummings-Palmer
5746

Views
Posted on:
August 26th 2021
Updated on:
September 1st 2021
For centuries, humans have been trying to roll back the clock and stop ageing in its tracks. As such, age management serums, skincare and other age management treatments are becoming more and more popular, whether they're preventing fine lines and wrinkles or grey hairs and aching joints. Though we can't escape growing older, there are a few ways to slow down the process and retain that youthful glow – and you don't need the fountain of youth to achieve it, either.
Karen Cummings-Palmer is an Altrient Ambassador and a health, wellness and nutrition coach that specialises in age management. She knows what works from the inside out to have you feeling (and looking) your best, and she shares her very best tips for managing age in our latest video.
While we can't stop ourselves from growing older, there are a few tips and tricks to maintaining a youthful glow. Altrient Ambassador Karen Cummings-Palmer shares how to achieve 'the essence of youth' in her latest video.
As Karen says, the goal of age management isn't to look decades younger, instead, it's about capturing the 'essence of youth' – the energy, vitality and glow that we associate with healthy, youthful skin.
Here's how Karen achieves the 'essence of youth' with age management treatments like supplements.
Move regularly
You don't have to run 10k every day, but consistent movement is an essential part of preventing ageing. Not only can regular physical activity help lower the risk for heart disease and help you maintain a healthy weight, but it can also lessen stress, improve sleep and boost your mood.
Karen focuses on a mix of cardio and muscle-strengthening exercises like Pilates, which work together to target every area of your body. It's an important part of the age management process.
Diet and nutrition are key
There's no denying that a varied, balanced diet is one of the most important aspects of staying healthy. Alongside drinking plenty of water, you want to focus on age management foods that offer health benefits. Berries are packed with antioxidants, avocados are full of healthy fats and broccoli is loaded with vitamins C and K. You'll also want to avoid refined sugar when possible, as it weakens your immune system and lowers collagen production.
Taking age management supplements
One way to slow down the ageing process is through regular supplementation, including collagen and glutathione.
Collagen plays a huge role in skin health, as it helps create elastin fibres that lock in moisture and plump the skin. Except by thirty years old, collagen levels start to decline, leading to visible signs of ageing like sagging skin and wrinkles.
Karen suggests taking an age management collagen supplement to help kickstart your collagen production and replenish your body's natural reserves. Choose one with hydrolysed collagen peptides like Neutrient™ Advanced Collagen – the molecules are already broken down, so they'll be absorbed faster into the bloodstream.
Another age management supplement to consider is glutathione. It's one of the most powerful intracellular defence nutrients, and it protects against free radicals, fights inflammation and can even help prevent heart disease. Much like collagen, glutathione decreases as we age, which can potentially lead to oxidative stress (and can cause premature signs of ageing) as well as a detrimental drop in some essential cellular functions.
Altrient's Liposomal Glutathione supplements can top up on these ultra-important defence nutrients, using clinically researched liposomal technology for maximised absorption.
Products like age management eye creams and moisturisers usually only work on the surface level. While they can prevent dryness and leave the outer layer of the skin feeling supple and softer, what creams and serums rarely do is provide a way for your body to make more collagen. It's a quick fix instead of a long-term solution, but by investing in supplements, you'll be helping your body from the inside out.
One of Karen's suggestions is to enhance your diet with high-performing supplements like collagen and Vitamin C.
Top up your Vitamin C
Age management and Vitamin C go hand-in-hand. Besides being a cornerstone ingredient in collagen production, Vitamin C also aids the elastin synthesis process, resulting in firmer skin and decreasing fine lines. It can also protect cells from oxidative stress and free radicals as well as prevent pigmentation, making it one of the best age management products.
Though you can obtain a good amount of Vitamin C through diet alone, Karen suggests a daily supplement like Altrient C to achieve the maximum benefits of this vital nutrient. Plus, new and independent research found that Altrient C can make skin up to 61% firmer, proving just how important Vitamin C is in the renewal and rejuvenation of skin function as we age.
Get a good night's sleep
Sleep is essential for everything – be it your body, your mind, and even your skin.
When you don't get enough sleep, your body produces more cortisol – also known as the stress hormone. The less shut-eye you get, the less collagen your body makes, which leads to puffy eyes and dark circles – you could think of sleep as the best natural age management eye cream. Sleep is also when our body repairs broken cells, so it's a must for healthy skin.
If you're feeling restless, try putting down your phone and turning off electronics, which are proven to suppress melatonin production and mess with your REM cycle. If that still doesn't work, try lavender. It's beloved by aromatherapists for its soothing, anxiety-reducing properties and has been shown in studies to calm the nervous system, resulting in more sustained sleeping patterns.
Ageing gracefully
Like Karen, we believe that age should be embraced and celebrated. The wisdom, humility and grace that comes with getting older is beautiful, not a burden.
Instead of trying to do the impossible and reverse ageing altogether, we should focus on ageing gracefully and take preventive measures to protect health. When your body feels good, it looks good, leaving you glowing on the inside and out.