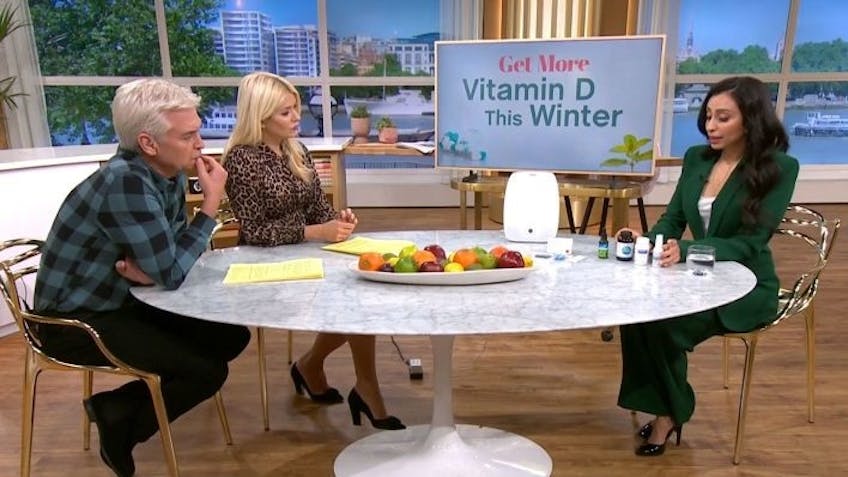 Did you catch Neutrient D3 + K2 on "This Morning"? Nadia Alibhai on the importance of vitamin D
3263

Views
Posted on:
October 7th 2022
Updated on:
October 7th 2022
As we welcome the colder seasons, our days get shorter which means our sunlight decreases and with it, disappears our chances of synthesising enough vitamin D! During the autumn and winter months, it is likely that you may not get sufficient amounts of vitamin D and It is, therefore, more important than any other time of the year to support your body and mind with the right supplementation.
Nadia Alibhai, registered Osteopath and clinic director of BACK 2 WELL-BEING shared her thoughts on the importance of Vitamin D+K supplements for this time of year on "This Morning show"-revealing Neutrient D3 + K2 as one of her top picks!
How is vitamin D produced naturally?
Vitamin D is normally produced by skin cells when exposed to the UVB rays found in sunlight and your liver and kidneys help convert vitamin D into the bioactive form that your cells can use.
If you live in a country with shorter hours of sunlight, cooler temperatures or have an indoors lifestyle, this means that your skin cells may not make enough sunshine vitamin D across winter, compared to the summer.
What happens during Autumn-Winter?
If you live in Europe or the Northern Hemisphere, you might not get enough sunlight from October to March and taking a daily vitamin D3 supplement is highly recommended by the department of Health.
The importance of Vitamin D
Vitamin D regulates more than 200 genes which influence a broad range of metabolic, cellular and physical functions, it plays an important role in supporting our immune defence. It helps both your kidneys regulate blood pressure and your pancreas balance blood sugar. Moreover, there is increasing evidence linking vitamin D deficiency with depression symptoms- no surprise you may feel blue during winter.
Vitamin K- a key addition
Vitamin K works in synergy with Vitamin D, it plays its part by supporting the transport of calcium into your bone matrix and binding this calcium deep within your bones, while also helping ensure it is not deposited in your artery walls, cartilage or organs where it could create calcification. Since the body only stores a very small amount of vitamin K, a daily dietary supply is essential.
"I recommend most patients to go for Vitamin D3 with K2 and the reason is because the two of them together really help to pull the calcium into the bone."- Nadia Alibhai
Choosing the right type of Vitamins: D3 and K2
Research has shown that vitamin D3 and vitamin K2 offer maximised absorption compared to other standard forms of these essential nutrients. In fact, studies show that vitamin D3 is more effective at raising blood levels of vitamin D than vitamin D2.
Sprays vs conventional tablets
"Sprays and drops get absorbed quicker through the cheek"- Nadia Alibhai
This is why experts recommend oral sprays over and above tablets and capsules which are dependent on intestinal absorption rates. An oral spray is also ideal if you often experience digestive discomfort with nutritional supplements or if you have digestive or malabsorption issues such as IBS, Crohn's, colitis and coeliac. Oral sprays are a great solution for the elderly or anyone who finds swallowing tablets or capsules too challenging.
Vegan source
A unique oily extract from lichens provides one of the purest plant sources of vitamin D3. There are hundreds of different species of lichen and the vitamin D3 found in supplements is extracted from a carefully selected lichen strain identified from extensive research.