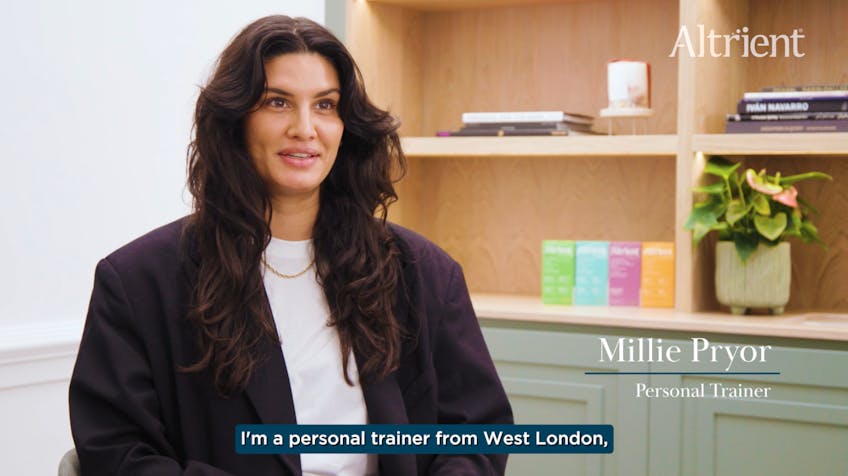 Supplement Your Skincare: Finding the Perfect Match for Your Skin- Millie Pryor talks to Dr Bibi
1940

Views
Posted on:
March 3rd 2023
Updated on:
March 3rd 2023
Top London Personal Trainer, Millie Pryor, visited aesthetics expert Dr Bibi for a skin consultation as part of our Skin Personality campaign to talk all things skin health!
Millie visited Dr Bibi to learn more about her Skin Personality and how she can achieve her skin goals with her recommended liposomal nutrition protocol of key Altrient ingredients.
Expert skin advice
Millie has been using Altrient for about 1 year and says "my favourite pairing is the vitamin c and the vitamin b." Being a busy personal trainer, Millie has a very active lifestyle and so needs to support her energy and immune system.
Dr Bibi explains that the pairing of Altrient Liposomal Vitamin C and Altrient Liposomal Vitamin B and Mineral Complex is ideal for Millie's lifestyle as it supports energy and immune system, while at the same time looking after her skin health!
The approach of combining supplements to deliver a tailored liposomal nutrition protocol to individual skin needs is a philosophy that Dr Bibi has adopted at her skin clinic (Dr Bibi's favourite pairing is Altrient C and Glutathione!). When assessing a client's skin concerns, Dr Bibi will recommend a liposomal nutrition protocol (alongside topical and clinical treatments) to help achieve each client's skin health goals as well as supporting other areas such as the immune system and energy.
Dr Bibi recommends Millie to introduce Altrient R-Alpha Lipoic Acid into her routine, as it helps to protect cells against oxidative stress by recharging vital antioxidants needed to help fight these free radicals, which have been shown to destroy collagen. The Altrient Skin Personalities have been developed by experts to provide deeply nourishing liposomal nutrition tailored to 5 Skin Personalities:
Quench

Flawless

Cherish

Fierce

Closure
The Skin Personalities test is a fantastic online tool to help you better understand your skin type and concerns, and will match you to one of the 5 Personalities mentioned above, where you will receive a nutrition protocol, lifestyle tips and 2 key Altrient liposomal supplements.
Want to find out more? Discover your Altrient Skin Personality:
Altrient Skin Personality No. 5 | Closure
The Flawless Skin Personality is a balancing protocol designed for skin prone to enlarged pores. Clogged and inflamed pores preceds spots and redness, shut down these pore preludes with a refining nutrition skin protocol. Support your Closure skin personality with two balancing nutrients your skin just can't get enough of – vitamin C and alpha lipoic acid (ALA).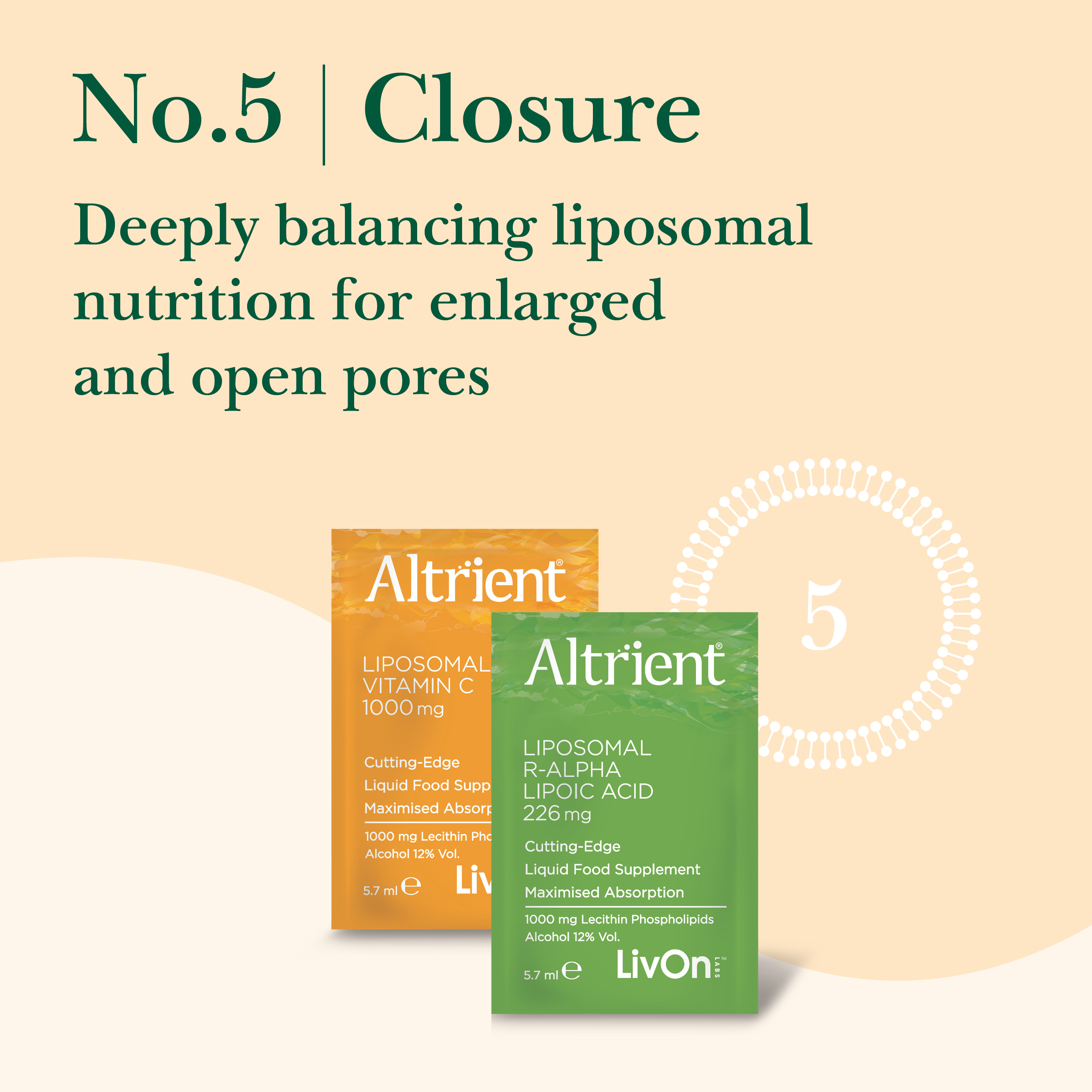 Tight skin pores are supported by a strong collagen network and plenty of elastin. Many studies describe vitamin C as being essential for building and maintaining a strong collagen network. Collagen makes up to 80% of the dry weight of skin and provides it with strength, structure and stiffness1. Vitamin C also protects cells from oxidative stress generated by UV and pollutants, which attack collagen and widen pores2.
ALA helps to protect the cells against oxidative stress caused by skin ageing free radicals from UV and environmental pollutants. Most antioxidants are limited by being water soluble or fat soluble- ALA is both, so it works in every cell and all areas of the body. Research shows ALA also recharges vital antioxdants3 needed to combat the free radicals that destroy collagen. R-ALA is the only natural form and has a higher absorption and bioavailability compared to the synthetic 'S' form4.
Taking a daily dose of liposomal vitamin C and alpha lipoic acid helps support your skin with the nutrients it needs to keep pores clear and naturally balance your skin. Here are some extra nutrition and lifestyle tips to support your Closure skin personality.
· Vitamin C focus- Include citrus fruit, purple and red berries, green vegetables and parsley in your diet.
· Dairy- Avoid or consider the consumption of dairy products which contain proteins and hormones that increase oily secretions.
· Exfoliate- A BHA exfoliator 1-2 times per week sweeps away oil, dirt and dead skin for clear pores.
· Daily SPF- Use a light SPF on your face to protect against UV which damages collagen and elastin.
· Clay Masks- Clay masks draw out oil and impurities, de-clogging pores so they appear minimised
· Deep Steam- Avoid heavy or oil-based products and use regular facial steams to remove oil from pores.
References:
1. Surgery of the skin. 2005. pages 97-115. https://www.sciencedirect.com/science/article/pii/B9780323027526500122 [accessed 9.6.22.]
2. Bito T, Konishi T, Matsugo S. Phytochemical Stability of Lipoic Acid and Its Impact on Skin Ageing. Free Radical Research 2011; 45,8: 918-924.
3. Minich DM, Brown BI. A Review of Dietary (Phyto)Nutrients for Glutathione Support. Nutrients. 2019;11(9):2073. Published 2019 Sep 3. doi:10.3390/nu11092073
4. Salehi B, Berkay Yılmaz Y, Antika G, et al. Insights on the Use of α-Lipoic Acid for Therapeutic Purposes. Biomolecules. 2019;9(8):356. Published 2019 Aug 9. doi:10.3390/biom9080356