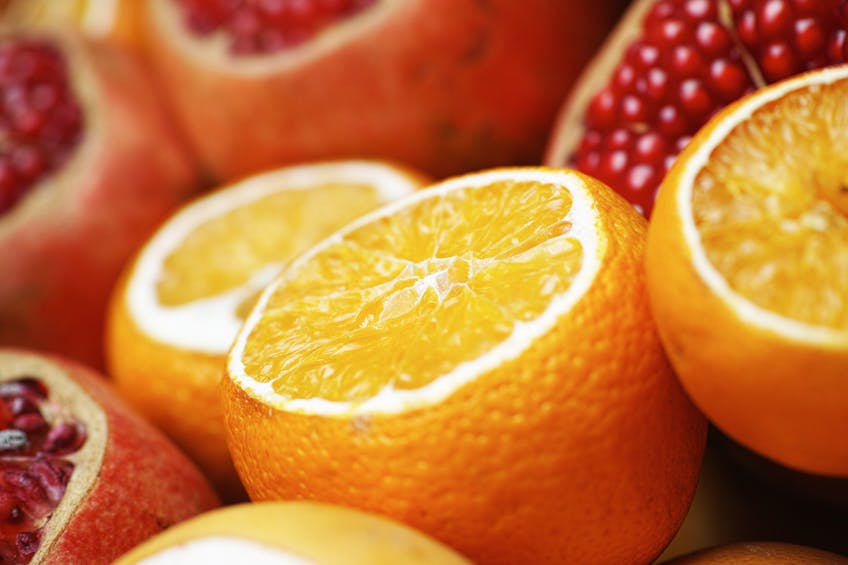 Does vitamin C improve skin?
1685

Views
Posted on:
April 4th 2023
Updated on:
June 22nd 2023
Happy National Vitamin C Day! While we may associate this essential nutrient with its ability to ward off colds and flu, vitamin C is also incredibly important for maintaining healthy, youthful-looking skin. In this blog post, we'll explore the benefits of vitamin C for skin health, discuss the best food sources and supplements for getting your daily dose, and provide tips for incorporating oral vitamin C into your skincare routine. We will also take a deep dive into the Cherish Skin Personality to better understand why vitamin C is a hero skin ingredient.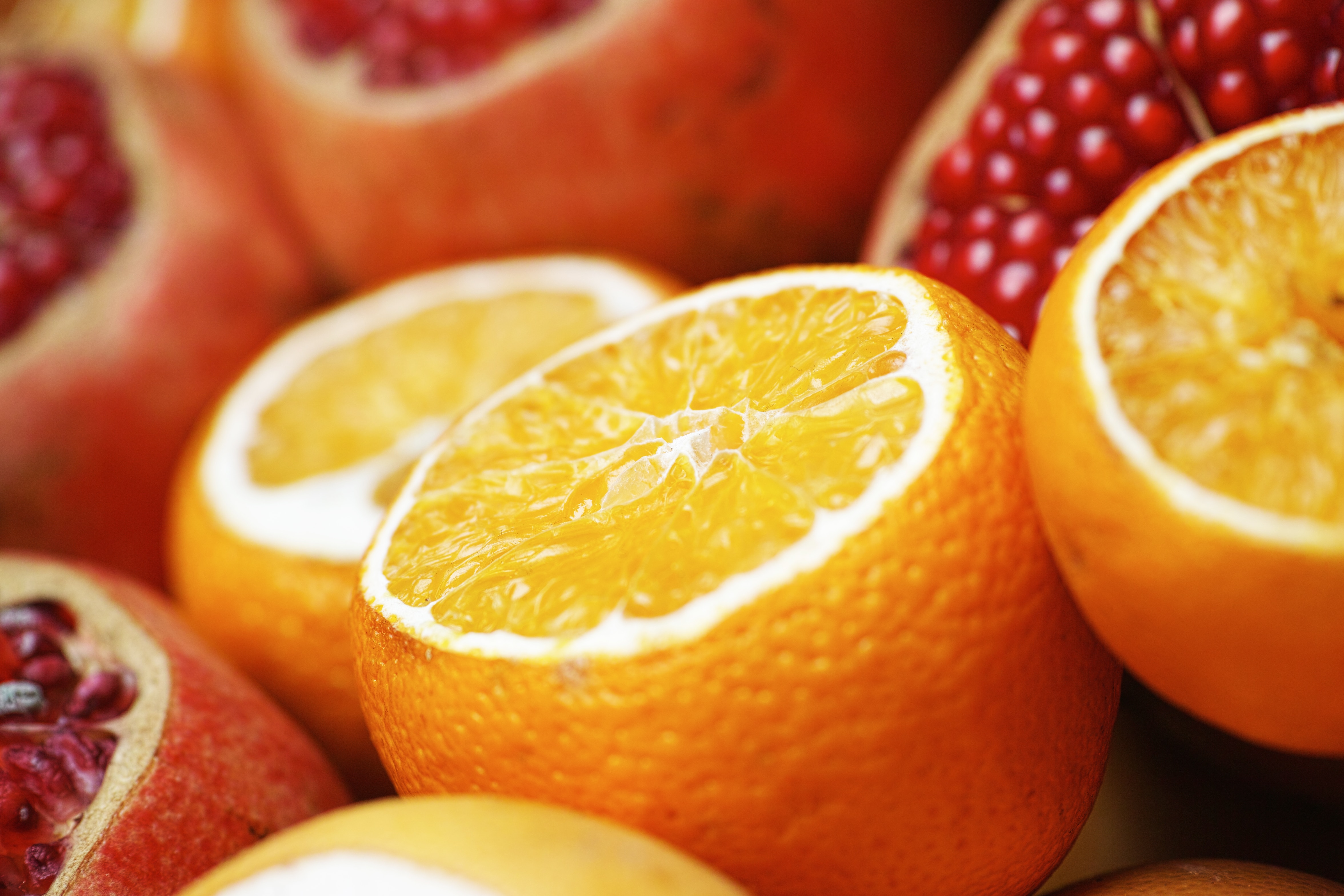 How does vitamin C help improve skin? Let's recap some of the key benefits.
Collagen synthesis: Studies have established that vitamin C is an essential nutrient that contributes to the formation of collagen for the normal function of skin. It works by helping to reactivate two enzymes involved in collagen formation - prolyl hydroxylase which helps stabilise a collagen molecule and lysyl hydroxylase which creates the cross-linking that helps strengthen collagen. Without vitamin C these specialised enzymes would struggle to work efficiently, halting the production of collagen. Collagen is a major component of the extracellular matrix that supports skin cells within the deep layers of the skin. As we age, our ability to produce new collagen declines which tends to affect skin hydration, elasticity and tone resulting in the appearance of fine lines, wrinkles and the visible signs of ageing. Diminished collagen levels could also mean that the skin becomes less able to provide an effective barrier to infection.
Helps fight UV-induced free radicals: While sunscreen is the best way to protect skin from UV rays, topical serums and creams with vitamin C can help neutralize free radicals generated by UV exposure that can damage skin cells and contribute to premature aging. Vitamin C's antioxidant properties can limit the effects of free radicals and prevent signs of skin aging triggered by UV rays.
Promotes a healthy inflammatory response: Vitamin C helps to inhibit free radicals from causing oxidative stress to the skin, protecting against skin irritation. Vitamin C can't be stored in the body and is quickly depleted by stress, alcohol, smoking, inflammation, infections, poor diet and pollutants. This antioxidant vitamin is vital for your skin's protection system. It is important to tackle vitamin C from both the inside and outside for optimal benefits, and while topical vitamin C serums offer various benefits, adequate dietary vitamin C intake offers many additional full-body benefits.
The best food sources of vitamin C:

The World Health Organisation recommends 400g or five portions a day, although other countries such as Canada suggest up to ten portions a day may be more beneficial to health. Some of the foods highest in vitamin C include citrus fruits, strawberries, kiwis, bell peppers, broccoli, and tomatoes.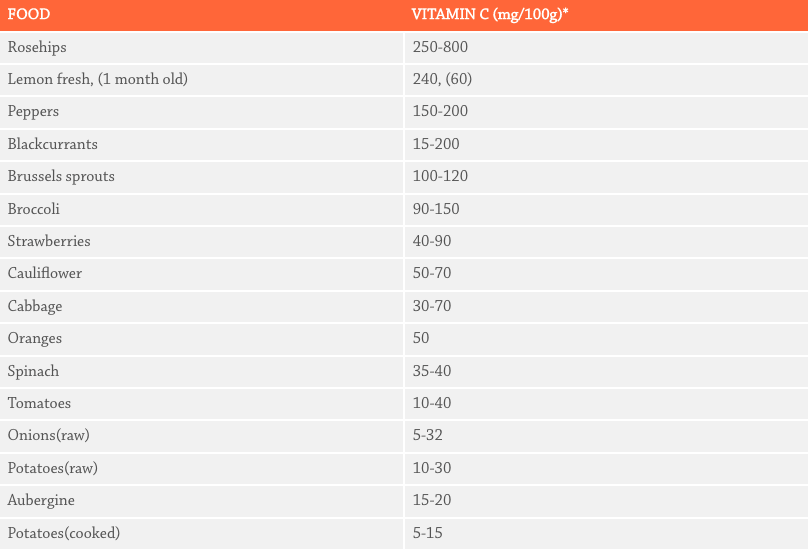 The Cherish Skin Personality - a deep dive
The Altrient Skin Personalities are designed to help you identify how your skin age, type, tone and complexions will impact its nutritional requirements. The Altrient skin personality protocols provide deeply nourishing liposomal nutrition tailored to five skin personalities.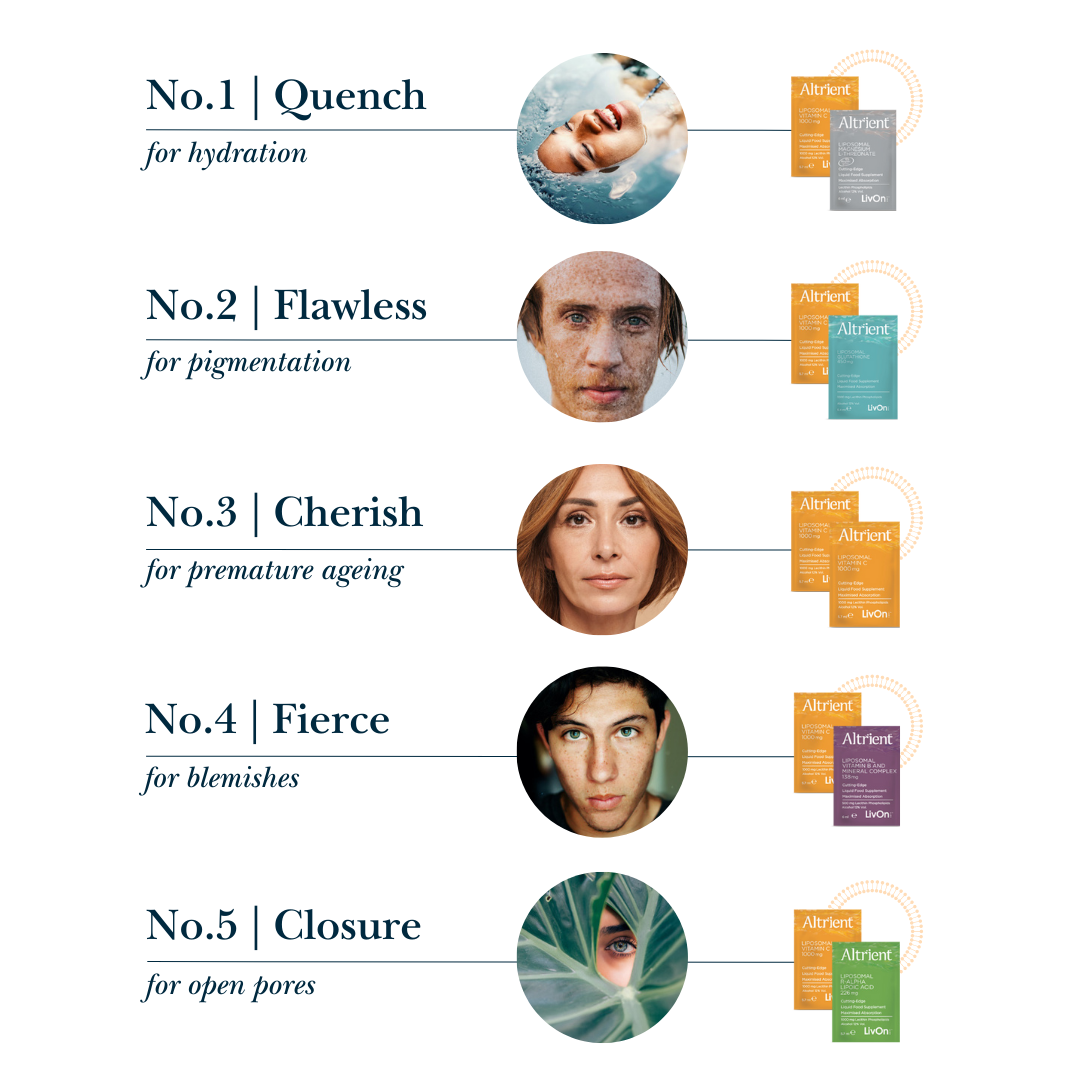 The Cherish Skin personality is based on our hero skin ingredient- vitamin C, which underpins each of the 5 Skin Personalities. The Cherish protocol helps to invigorate tired, dull, thin, fragile and lifeless skin with a naturally rejuvenating nutrition skin protocol. Start to preserve youthful skin firmness and elasticity by supporting your Cherish skin personality with the only known nutrient to actually stimulate collagen synthesis – hello, vitamin C!
Consisting of 2x Altrient C doses, the Cherish protocol provides sufficient vitamin C to support all aspects of skin cell activity and function from collagen synthesis to protection from UV damage.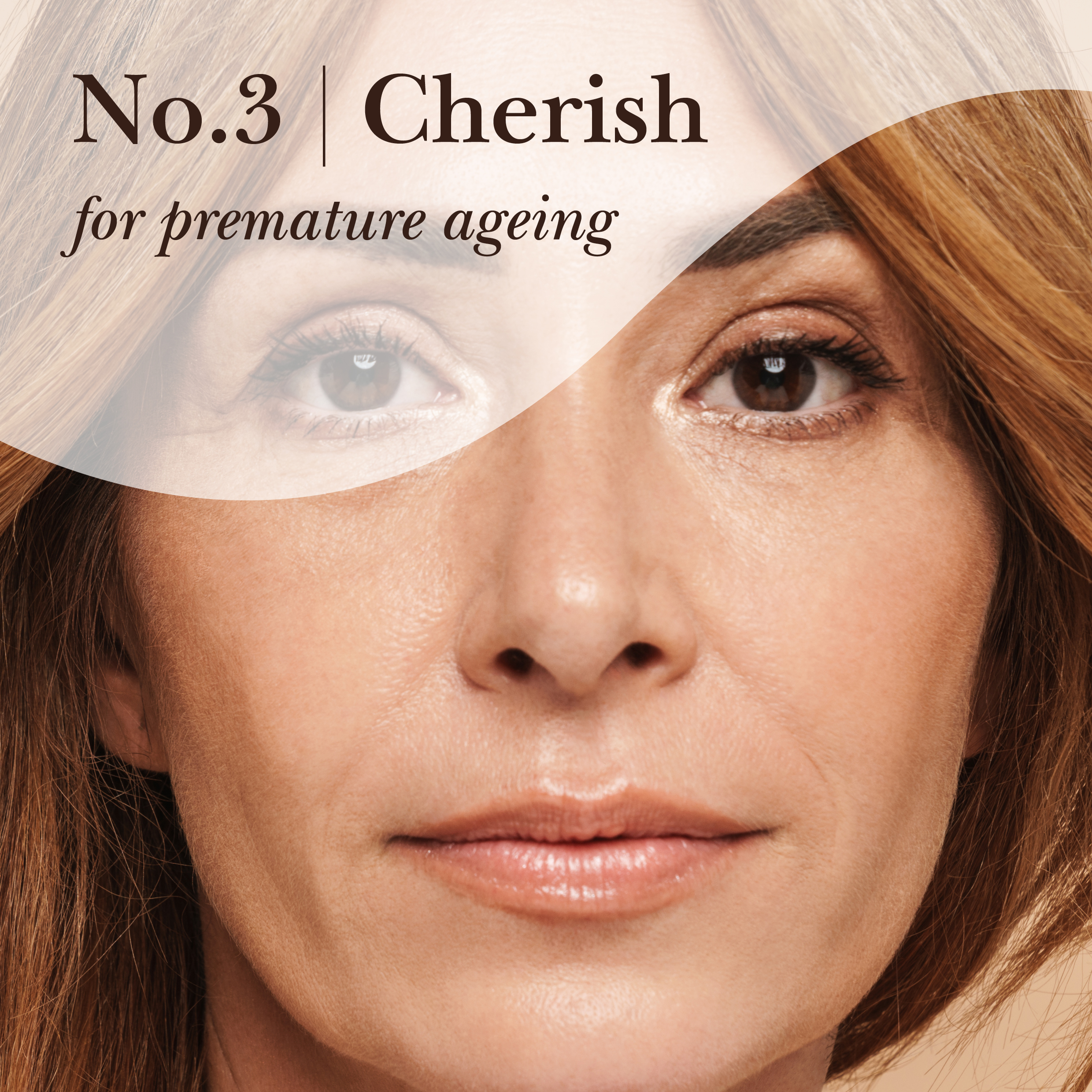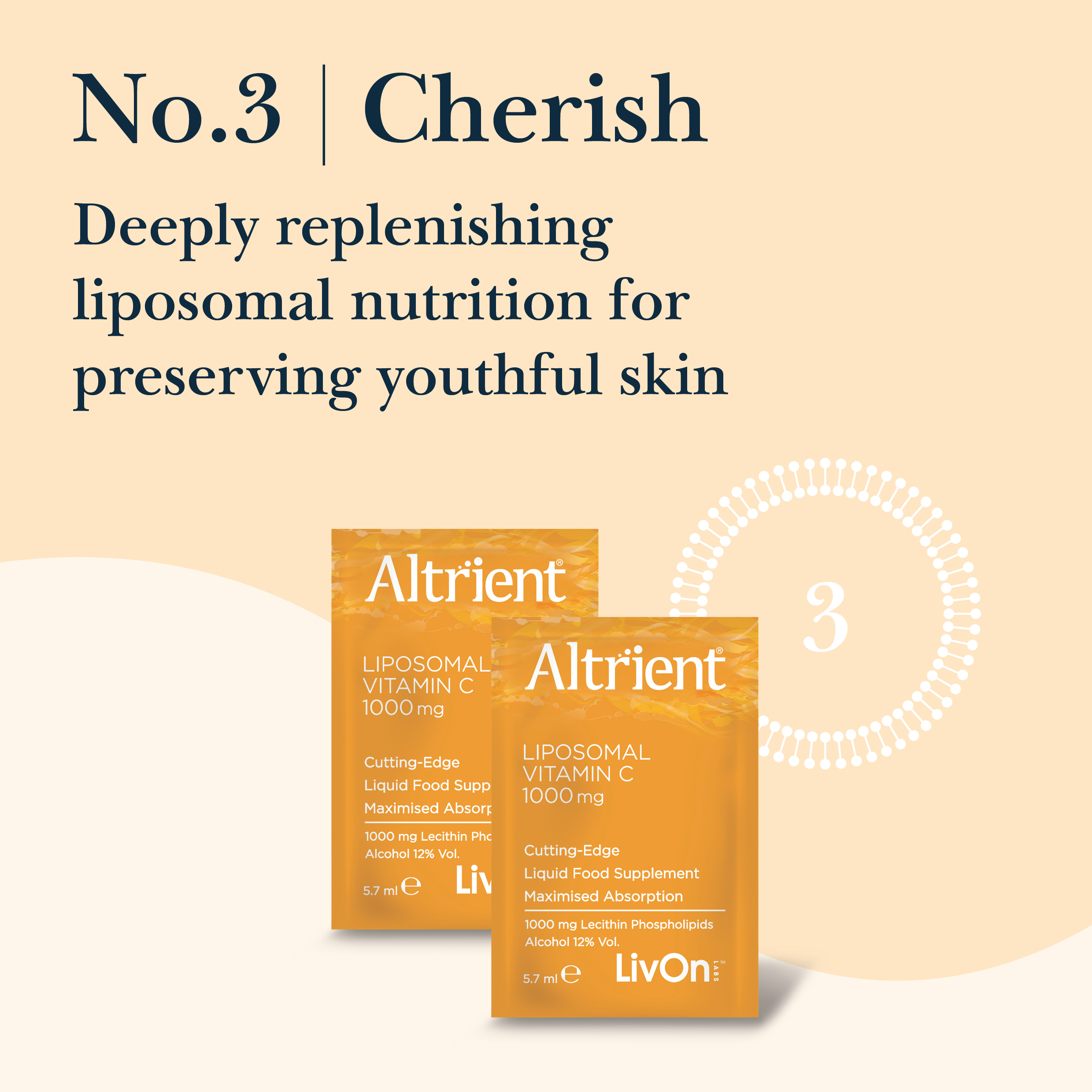 An independent, double- blind, placebo-controlled study carried out by Princeton Consumer Research Centre in the UK revealed Altrient C to increase skin elasticity by 61% and reduce fine lines and wrinkles by 13.5% within 16 weeks. These glowing results highlight the significance of liposomal Altrient C for supporting collagen formation and normal skin function.
Taking a daily dose of liposomal vitamin C helps replenish your skin with the nutrient it needs to make collagen and preserve skin elasticity and firmness. Here are some extra nutrition and lifestyle tips to support your Cherish skin personality.
SPF Moisturiser- swap your daytime moisturiser to a product that contains high SPF for year-round protection
Reduce alcohol- drinking excessive amounts of alcohol can increase fine lines, under-eye puffiness, lip creases and thread veins
Vitamin C focus- include citrus fruits, purple and red berries, green leafy veg and parsley in your diet
Less sugar- sugar increases advanced glycation end products (AGE's) whic can cause skin damage and ageing
Stop smoking- smoking lowers levels of vitamin C, damages collagen and elastin, contributing to wrinkles
Take the Skin Personality test now to discover which one best matches your skin, and be on your way to glowing results from within!

Is vitamin C really effective? Here's what some of our customers have had to say about Altrient C:

For three months I have been trialing the popular Altrient liposomal vitamin C product. Usually pretty cynical about beauty product claims, I am very surprised to find that my skin has visibly improved in texture and it has much more 'glow' than before. So much so that several friends and even my husband has noticed! Also I got through this winter without any cold or infection which was a bonus - presumably due to a boosted immune system. If you have ever thought to try something to improve your skin, please try Altrient - it works!- Hilary

I have suffered from rosacea and bad skin for years but have never really taken much of an interest in skincare. I have tried various topical treatments over the years but not much worked. I started taking Altrient C about 8 months ago, mainly for the immune benefits and energy, but since taking them I have seen an improvement in my skin too. I have noticed that it is isn't as red and seems smoother - Martin