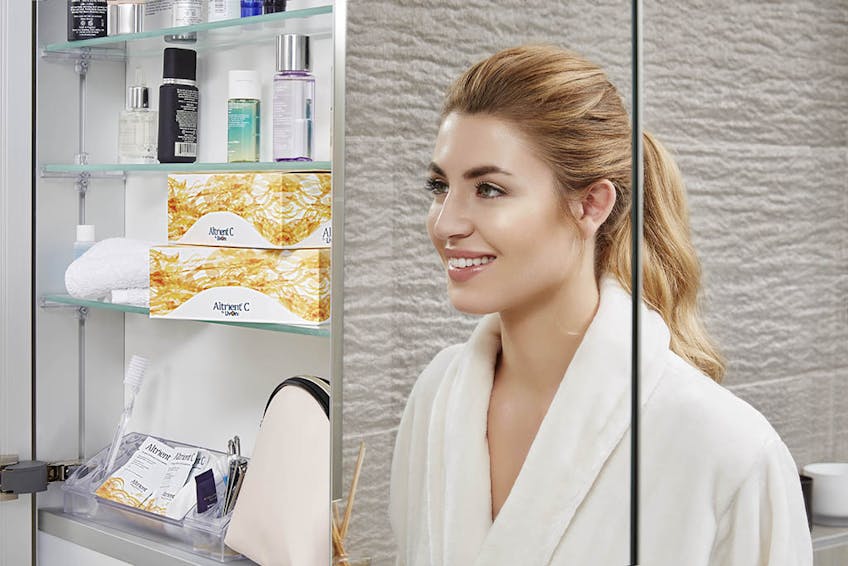 The Truth About Vitamin C and Skin
41064

Views
Posted on:
July 7th 2018
Updated on:
July 12th 2021
Vitamin C has a well-deserved reputation as one of the most popular health food supplements in the world - especially amongst those seeking effective immune support and a boost for flagging energy reserves.
But what many people don't realise is that vitamin C has a multitude of other valuable functions in the body.
According to research - increasing vitamin C levels can result in a whole range of health benefits from enhancing wound repair to reducing cancer rates, relieving hot flushes, inhibiting the growth of Helicobacter Pylori, protecting against toxins, reducing cataracts and improving gum health.
To top it all there is also increasing evidence that vitamin C supports skin health and can be used as a powerful anti-ageing product.
Plus, if you take a vitamin C supplement in liposomal form such as Altrient you have the added advantage of almost 100% absorption. Not something standard oral vitamin C products can guarantee.
The A List Vitamin C
Actors, pop stars, models, west end performers and reality TV stars have all recommended Altrient vitamin C on their blogs, instagram, youtube and in interviews. (in Europe it is known as Altrient but in America it is known as Lypo-spheric, they are the exact same product)
It's no surprise that some of Europe´s top health and beauty journalists and consultants began to cotton on to how good Altrient is at keeping both you and your skin healthy – Caroline Hirons, Trinny Woodall, Jennifer Rock (The Skin Nerd), Triona McCarthy, Claire McGrath (IFBB pro athlete), Hofit Golan and most recently health and beauty journalist Alice Hart-Davis, have all professed to being devotees. Alice Hart-Davis recently completed a 12-week trial taking 3 sachets of Altrient vitamin C a day, the skin results were amazing - see what happened by reading her feature in The Times newspaper and most recently in the Daily Mail.
Vitamin C for Super Supple Skin
Quite apart from keeping all engines revving in your immune system, scientists have discovered that by working from the inside out with the help of vitamin C you can achieve smoother, more supple and younger looking skin.
In fact the anti-ageing magic that creates amazing skin and timeless beauty happens in the dermal cells just below the skin's surface. So, it seems beauty really is skin deep!
The dermal cells are the home of collagen production - the substance that literally holds us together. However, once you hit your 20's collagen synthesis starts to dwindle. Before you know it your skin gets dryer, starts to sag and wrinkles begin to appear.
What's more, you can't produce collagen without vitamin C, a key player in the molecular mechanisms that transport the magic from your cells to the surface of your skin…
The Proof That Altrient Vitamin C Works
A third party, double blind placebo-controlled study carried out by Princeton Consumer Research Ltd in 2014 looked specifically at the effects of Altrient vitamin C on skin health, producing astonishing results.
The study showed that Altrient vitamin C, the world's first liposomal Vitamin C gel supplement, increased skin elasticity and firmness by 60.8% in just 12 weeks rising to 61.4% at 16 weeks, by boosting collagen production to reduce wrinkles and fight against the signs of aging.
These incredible results were achieved by taking just 3 sachets a day of Altrient vitamin C over a 16 week period. Equally encouraging, was the fact that individuals taking just 1 sachet a day also saw an impressive 34.99% improvement in their skin's elasticity and suppleness. The group taking the placebo showed no improvement at all, it in fact showed a slight decline in skin elasticity.
You Can Absorb More Vitamin C Than You Think
Up until recently the general consensus amongst scientific researchers - most notably the National Institute of Health in the US - is that the human body cannot absorb more than 200mg of supplemental vitamin C at any one time (which equates to around 70 µmol/L in blood plasma). However this is now refuted following the results of more recent scientific investigations.
The authors of one small study published in the Journal of Nutritional and Environmental Medicine suggest otherwise. Drs Hickey and Roberts found that the administration of a single 36g dose of Altrient liposomal Vitamin C from LivOn Labs achieved blood plasma levels of 417 µmol/L.
Further research by Dr Johan Bolhuis using 6g of Altrient liposomal Vitamin C produced plasma levels of 204µmol/L. Bolius went on to try using multiple combinations of standard oral vitamin C and liposomal vitamin C. This produced even higher blood plasma levels of 512-579µmol/L.
These results support the prediction of Drs Hickey and Roberts that vitamin C plasma levels of 500-600uM/L can easily be achieved and sustained with the use of Altrient liposomal vitamin C.
And this is exactly what you need to keep your immune system fighting fit. Numerous studies have shown that vitamin C enhances activity of specific white blood cells that the body uses to round up and destroy invading bacteria and viruses.
Why is Altrient Vitamin C So Good?
Leading nutritionists agree that Vitamin C really is key for maintaining optimal skin health but when it comes to supplementation the method of vitamin C delivery can really make a difference.
Altrient were the first to develop cutting-edge liposomal vitamins, using a patented process to create Liposomes, super clever microscopic molecules that enclose and protect nutrients like vitamin C and transport them directly to the cells that need them.
The unique advantage of liposomes are that they can bypass the digestive juices and absorption barriers that limit the amount of standard oral vitamin C the body can actually use.
Overcoming these obstacles means that Altrient vitamin C liposomal vitamin C can offer almost 100% absorption.
If you value your skin, want oodles of energy and a healthy future – Altrient liposomal vitamin C is most definitely the way forward.
Altrient C has also featured in mainstream media, here's our latest article as published in The Times
https://www.thetimes.co.uk/article/vitamin-c-the-new-anti-ageing-treatment-0v2rk2pct [Opens in a new window]
Jacqueline Newson BSc (Hons) Nutritional Therapy
References
Akbarzadeh A, Davaran S, Hanifehpour Y et al. Liposome: classification, preparation, and applications. Nanoscale Res Lett. 2013; 8(1): 102.
Akhilender Naidu K. Vitamin C in human health and disease is still a mystery ? An overview. Nutrition Journal 2003, 2:7: 1-10.
Hickey DS, Roberts HJ, Cathcart RF. Dynamic Flow: A New Model for Ascorbate. J of Orthomolecular Medicine 2005; 20(4):237-244.
Jone A. Liposomes: A short Review. Pharm. Sci. and Res. 2013; 5 (9), 2013, 181 – 183.
Maeda O et al. Vitamin C Inhibits the Growth of a Bacterial Risk Factor for Gastric Carcinoma: Helicobacter pylori. Cancer 1997; 80:1897–903.
Philp HA. Hot Flashes – A Review of the Literature on Alternative and Complementary Treatment Approaches. Altern Med Rev 2003; 8(3):284-302.
Telang PS. Vitamin C in dermatology. Indian Dermatol Online J. 2013; 4(2): 143–146.