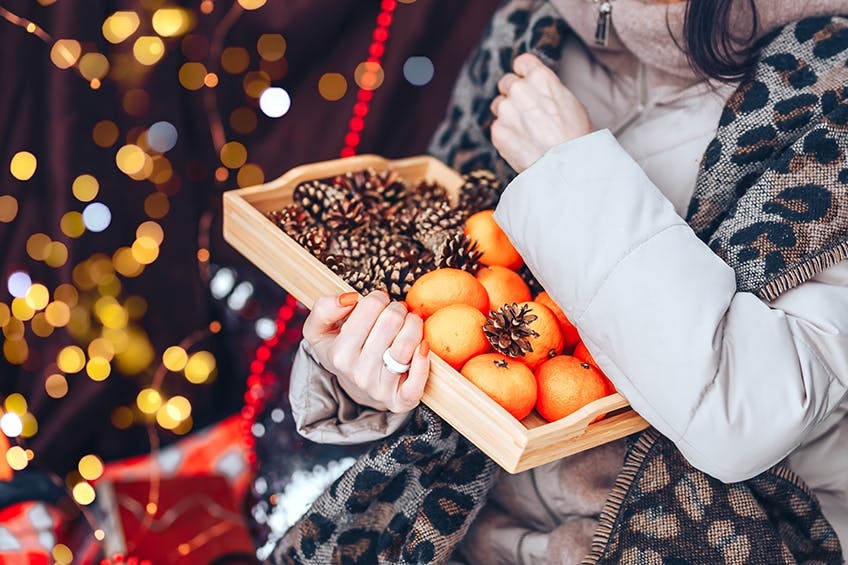 Could vitamin C keep you on your toes this Christmas?
19102

Views
Posted on:
December 23rd 2019
Updated on:
May 18th 2021
Vitamin C is a go-to remedy around wintertime and why not? It makes sense to utilise its numerous health benefits at this time of year, especially during the festive period.
Christmas for most is an endless round of social activities, which also means keeping friends, family and children happy, with little time for self-care. The combination of non-stop shopping, cooking for the crowds and burning the candle at both ends could eventually take its toll on your winter health.
The natural lull between Christmas and New Year is when all the extra pressure tends to catch up. You may find your energy levels hit rock bottom and opportunistic bugs are more likely to overcome your potentially flagging immune system.
What you need is a strategy that helps recharge your adrenals, bolster your immunity and see you through this hectic period, so you can face 2020 feeling energised and ready to start afresh.
Why vitamin C?
Vitamin C is a water-soluble vitamin which has the ability to help neutralise substances that could cause oxidative damage to many of the body's important biological molecules such as DNA, proteins and fats.1
Another role of vitamin C is as an essential cofactor in several enzymatic reactions, including the regulation of gene expression and the biosynthesis of carnitine, collagen and neuropeptides.4
These key roles make vitamin C a great all-rounder when it comes to winter nutrition support. According to research it is particularly important for:
Contributing to the protection of cells from oxidative stress
Contributing to the reduction of tiredness and fatigue
Contributing to normal functioning of the nervous system
Contributing to the normal functioning of the immune system
Contributing to normal collagen formation for the normal function of blood vessels, bones, cartilage, gums, skin and teeth
Contributing to normal red blood cell formation
Increasing iron absorption
In short, a number of these health benefits contribute to your sense of wellbeing, such as normal energy levels, minimal stress, good skin, teeth, gums and joints and a robust immune system and may all in some way be supported by a vitamin C rich diet.
Expert advice on vitamin C
Don't just take our word for it. Dr Thomas Levy, a board-certified cardiologist and expert on health-related issues has a lot to say about vitamin C, a nutrient he is so passionate about he's written several books on the subject. In one of his books called Primal Panacea Dr Levy details many of the multiple powers of vitamin C.
On immune health Dr Levy explains:
"All infections produce increased oxidative stress where the pathogens proliferate and where their toxic metabolic by-products are disseminated. This increased oxidative stress accounts for nearly all of the morbidity and symptoms associated with a given infection.
Also, when infections are overwhelming, some of their negative impact results from the physical mass or presence of the infection directly impairing normal biomolecules from properly interacting with one another. And when significant infections have been present long enough, they cause a severe body-wide depletion of vitamin C, effectively resulting in an acutely-induced state of scurvy.
Just as classical scurvy is associated with severe infection, severe infection results in a state of scurvy. This very fact makes it apparent that taking sizeable doses of vitamin C with any infection is more than appropriate to help restore the stores than have been depleted. Also, vitamin C is absolutely essential for supporting, strengthening, and optimizing immune system strength.
In both the test tube and in the human body, vitamin C has been clearly documented to kill/inactivate viruses. In fact, there has been no virus treated in the test tube (and there have been very many) that has not been stopped cold by vitamin C."2
Optimal ways to take vitamin C
There's no mistaking the many health benefits of gaining an adequate intake of vitamin C. In fact Dr Levy suggests there is a need for high doses when faced with most illnesses, in his opinion:
"When enough vitamin C is given, in the right form, and for a long enough time, vitamin C helps virtually every condition, resolves many of them and prevents still others."3
Jumpstart your 2020
First things first, you'll need to call a halt to snacking on typical festive food and then give your liver a break from alcohol. Instead, drink plenty of water, go for some long wintery walks and start to build your menus around vitamin C rich foods.
Including some meat free days in your nutrition plan is the perfect way to maintain a good balance in your diet, and it's great for the environment too!
Warming, comfort foods
Winter is the perfect time to rustle up some wholesome and filling vegetarian recipes full to the brim with vitamin C. Firm favourites include cauliflower cheese, veggie pasta bake, curried butternut soup and blackberry crumble.
The fruits and vegetables listed below have the highest levels of vitamin C and should give you plenty of healthy ingredients to play with.
| | |
| --- | --- |
| Vegetables | Fruit |
| Red, yellow and green peppers | Avocado |
| Broccoli | Guava |
| Cabbage | Papaya |
| Brussels sprouts | Kiwifruit |
| Snow peas | Oranges |
| Cauliflower | Strawberries |
| Potato with skin | Pineapple |
| Kale | Grapefruit |
| Bok choy | Clementine |
| Asparagus | Tangerine |
| Sweet potato with skin | Mandarin |
| Butternut squash | Mango |
| Tomatoes, fresh and canned | Blackberries, raspberries, blueberries |
Extra Christmas support
If you're dreading Christmas and all the stress and health challenges that come with it, don't wait for divine intervention, take a leaf out of Dr Levy's book and opt for the super-charged route!
A short course of 3 sachets daily of Altrient C in the lead up to the big day provides valuable nutritional support when teamed with a fruit and vegetable rich diet and could really help to keep you on your toes this Christmas.
Please note - This article was created and edited by Nutritional Therapist Jacqueline Newson using extracts from articles and books by Dr Thomas Levy MD, JD.
References
Jamison J (2003). Clinical Guide to Nutrition and Dietary Supplements in Disease Management. Churchill Livingstone: Australia.
https://www.peakenergy.com/articles/nh20160314/The-never-ending-war-against-vitamin-C/. [Accessed 11.11.19]
Levy T E, MD, JD (2011).Primal Panacea. MedFox Publishing: USA.

Oregan State University. Vitamin C.

https://lpi.oregonstate.edu/mic/vitamins/vitamin-C

. [Accessed 13.11.19]